Newsman to nude man - nae kidding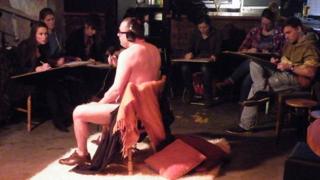 Why on earth would anyone want to take their clothes off in front of a room full of strangers? But it seems they do. A Glasgow life drawing club is going from strength to strength, with an offshoot in Edinburgh and another planned in Dundee.
My dad used to have a record of the Beyond the Fringe stage show. One sketch featured Jonathan Miller talking about lost property handed in on the London Underground. He said the list included 400 pairs of blue, serge trousers.
He speculated about the military operation that would be needed to despatch people to the furthest reaches of the network to divest themselves of their garments.
He called that the "existential moment."
For some reason that phrase was repeating on an endless loop as I took my clothes off in the glamorous surroundings of a Glasgow pub toilet.
Then, on with the (new, bought for the occasion) dressing gown. Out into a crowded private bar.
I sit down, wearing headphones and clutching my microphone and digital recorder.
And the gown comes off.
And there I am. Naked. And feeling very alone.
Surrounded by strangers with sketch pads, who are all staring at me.
But, somehow, it's not ME they are seeing.
It's the collection of bits, shapes and angles that make up my body.
I comfort myself with the thought that they could just as well be drawing a basket of vegetables, a vase of flowers, or an interesting arrangement of tin cans.
So, I'm not a person. I'm an artistic challenge. A series of problems to be solved, and recorded on paper.
And yet, of course, I really am a person. And I'm nude. Maybe that's why they advise you not to stare at the artists as they are drawing you. Maybe that eye-to-eye contact would make it too personal?
The All the Young Nudes club started in Glasgow four years ago. They recently re-launched an Edinburgh branch in new premises and, founder Joanna Susskind says, they're looking at setting up a branch in Dundee soon.
Life drawing has always been an important part of formal artistic training. But it's not so commonly available to just anyone who walks in off the street.
And the people I met were a mixture. Some had studied at art college. Others had never had that opportunity, but were keen to hone their skills.
If that's why the artists come, what about the models? Why do they do it?
"I ask myself that question all the time," laughs 49-year-old Carol. But she's been modelling nude for the past eight years.
Cat, 30, is a burlesque cabaret performer. She says: "I was born without shame" and that standing there is "restful".
"Being there, being still, having my mind wandering, not having to think of the next thing I ought to say or do is very therapeutic."
I'm not sure that's the word I'd use. Even when I thought I'd got used to what I was doing, there were constant reminders about how odd the whole thing was.
The fan heater blowing warm air over places that wouldn't normally feel the blast. The people walking up to where I was posing, appraising my potential, and choosing to draw someone else instead.
And then, of course, the moment when I saw the drawings the artists had produced.
"Couldn't you have made my tummy look smaller than it really is?" I asked Russell Kyle.
"I think I did," he replied, rather sternly.