Trial date set over Sharkey fire deaths in Helensburgh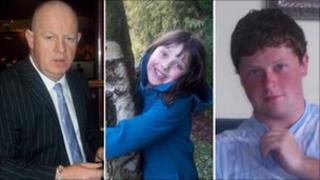 Two men are to stand trial accused of murdering three members of the same family by setting fire to their home in Helensburgh, West Dunbartonshire.
Thomas Sharkey, 21, and his eight-year-old sister Bridget died in the fire in July 2011. Their father Thomas Snr, 55, died days later. Their mother survived.
Robert Jennings, 50, and 37-year-old Scott Snowden, face a total of 22 charges, including murder.
A trial date was set for 30 April at the High Court in Edinburgh.
The preliminary hearing was held at the High Court in Glasgow.
'Evinced malice'
The murder allegation includes a claim that petrol was poured through the letterbox of the Sharkey family home while they were asleep and the liquid set alight.
It is also alleged that both accused attempted to murder Mr Sharkey's wife Angela - the children's mother - during the same fire.
Mr Snowden is said to have "evinced malice and ill-will" towards Mr Sharkey in the months before the fire, by threatening to shoot him and have his house burnt down while the accused was abroad.
The pair are also accused of being involved in six other fires in Helensburgh, Rhu and Loch Lomond - including at three different pubs.
Mr Snowden faces a charge on his own that he started a fire at a construction site in July 2008.
Both men are also said to have offered someone drugs and money to throw ammonia into the face of a man at a Helensburgh bar in January 2011.
Amongst the other allegations is a charge that Mr Snowden threatened to set fire to a woman's house while she and her child were inside.
Mr Snowden was not present during the hearing but his QC Donald Findlay lodged special defences of incrimination and alibi in his absence.
Mr Findlay said the case was "one of some substance" taking into consideration the amount of charges involved.