Anne Layden given animal ban over neglect of dog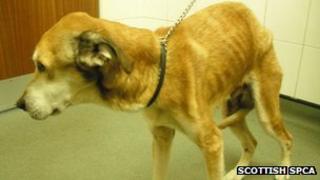 A woman who admitted neglecting her dog has been fined £100 and banned for life from owning animals.
Anne Layden, 54, from Kirkintilloch, East Dunbartonshire, admitted failing to provide veterinary treatment and an adequate diet for her dog, Max.
The seven-year-old crossbreed was found severely emaciated at her home and was later put down.
She was handed the ban at Glasgow Sheriff Court following an investigation by the Scottish SPCA.
Stacey Erwin, an inspector with the animal charity, said: "When we arrived at Layden's property, we could hear high pitched yelps coming from inside.
'Discomfort and distress'
"It was clear to anyone looking at Max that he needed help. He was emaciated, unsteady on his feet and suffering from a skin condition which covered nearly half of his back.
"He was also in a great deal of discomfort and distress."
Insp Erwin said that Max was found to be "at least 5kg underweight" and a vet gave him a "body score of just one, with one being emaciated and five being obese".
"Sadly, due to the severity of his condition, the vet had no option but to put Max to sleep and end any further suffering," she said.
"This was a tragic outcome which could have been avoided had Layden sought veterinary treatment for Max.
"In our opinion, Layden was aware of Max's extremely poor condition yet failed to seek help for him."
Insp Erwin said the charity was "pleased" that Layden has been banned from owning animals for life as she had "demonstrated she is unfit to provide proper care".