Lynda Spence trial: Jurors hear torture 'evidence'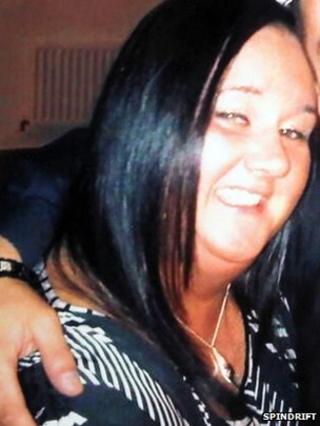 The trial of four men accused of abducting and murdering missing financial adviser Lynda Spence has heard that she was tortured.
The claim was made by one of the accused, Paul Smith, 47, during a police interview.
In a tape, which was played at the High Court in Glasgow, he says co-accused Colin Coats, 42, cut off Ms Spence's thumb and part of her small finger.
Mr Smith, Mr Coats, David Parker and Philip Wade deny murder.
The men are accused of abducting and torturing Ms Spence at a flat in Meadowfoot Road, West Kilbride, between 14 and 28 April 2011.
It is claimed they murdered her after torturing her to obtain financial information and then cut off her head and disposed of her body.
During his interview at Saltcoats police station on 31 October 2011, Mr Smith told detectives that he was asked by Mr Coates and Mr Wade if he could provide a safe house for Ms Spence, who owed someone money, until she got a passport.
Mr Smith said: "I was kind of hoodwinked. I was doing a favour and it kind of turned sour."
'Babysitting' claim
The court was told that Ms Spence was going to stay at Mr Parker's house in West Kilbride in what Mr Smith claimed had been described to him as "babysitting".
In his interview, which lasted about 10 hours, Mr Smith said that Ms Spence was brought to Mr Parker's flat by Mr Coats and Mr Wade.
He said: "She had dark sunglasses and Colin Coats guided her up the stairs."
Mr Smith claimed in his interview that during the whole time in attic area of the flat, Ms Spence was bound to a computer chair by gaffer tape.
He said that he and Mr Parker gave her cups of tea and soup, but they were told not to let her out of the chair, not even to go to the toilet.
Mr Smith told the detectives conducting the interview that Mr Coats beat up Ms Spence a couple of times while questioning her about bank accounts.
He alleged that he also cut of the tip off her small finger during a visit with Mr Wade and then returned alone later and cut off her thumb.
Mr Smith said that as he left the flat on the later occasion Mr Coats made a thumbs up sign and gestured as if he had something in his pocket.
He went on: "He though it was funny."
Mr Smith said he saw Ms Spence's small finger and thumb covered in surgical tape but claimed he saw no blood on either occasion.
Missing money
In the interview he said that he spoke to Ms Spence and she told him it was to do with bearer bonds in the Cayman Islands.
Mr Smith said: "She said something about bearer bonds and said they were going to be proved to be fake if someone tried to cash them."
He was asked how much of Mr Coat's money was missing and replied: "She said £3.2m."
On another occasion he said she mentioned the figure £70,000 to £80,000.
Mr Smith told detectives that he and Mr Parker "bailed out" shortly after Ms Spence's thumb was allegedly cut off.
He said: "Colin and Phil said to us: 'Look you can go. There's guys from London coming up to talk to Lynda'. We were quite relieved.
"She was alive. There were injuries on her. She wasn't dead. She was compos mentis and alive."
Mr Smith told police that he felt sorry for Ms Spence, but claimed he was too scared of Mr Coats to let her go.
He was asked by police if Ms Spence had asked him to free her and said she had not.
The trial before judge Lord Pentland continues.