Paige Bain, 16, jailed over racist attack in Glasgow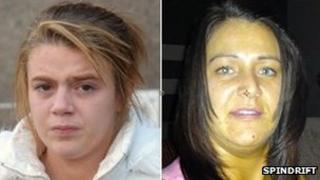 A teenager who carried out a racial attack in Glasgow with her aunt has been jailed for 980 days.
Paige Bain, 16, and 28-year-old Eileen Kennedy admitted assaulting Umaimi Musa in Royston Road on 3 September 2012.
Bain also admitted assaulting Ms Musa's friend, Mary Marandran, who was then five months pregnant.
She was aged 15 at the time of the attack. Kennedy was jailed for two years and six days during a previous hearing at Glasgow Sheriff Court.
The court heard how Ms Musa, from Darfur, Sudan, and Mrs Marandran, from the Congo, were sitting on a bench in a play park when they heard racist phrases.
Hijab removed
Bain and Kennedy attacked the women, during which Bain repeatedly punched the then pregnant Mrs Marandran on her head and pushed her.
The pair demanded Ms Musa's mobile phone and tried to grab it off her after she told them she was going to phone the police.
During the struggle, Ms Musa fell to the ground, where she was repeatedly punched on her head and body.
Her hijab was also pulled from her head and her mobile phone was stolen.
Police officers were called in after the attack was spotted by CCTV operators.
Both Mrs Marandran and Ms Musa were taken to Glasgow Royal Infirmary to be checked.
Women injured
Ms Musa had a bruised left cheek, a grazed knee and a sore neck.
Mrs Marandran suffered no damage to her unborn child but had some muscular pain.
Kennedy and her then 15-year-old niece pleaded guilty to racially assaulting 41-year-old Ms Musa to her injury.
Kennedy also admitted resisting arrest and claiming she had an infection before spitting on a police officer.
Bain admitted the racially aggravated assault on Mrs Marandran, 40, by repeatedly punching her on the head and pushing her to her injury.