Parents protest at closure plans for East Dunbartonshire primaries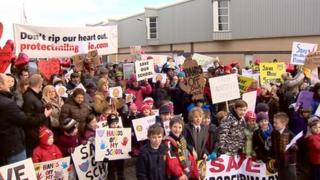 Hundreds of parents and children have attended a protest over plans to close primary schools in one of Scotland's most successful education authorities.
East Dunbartonshire, which is regularly near the top of exam league tables, has proposed shutting the doors of up to a third of its 36 primaries.
It said the closures and mergers would create "super schools" with better facilities.
Parents staged a demonstration outside the council's headquarters.
They claimed that about 500 people attended the rally.
The local authority, which has already created six modern secondary schools, said falling rolls have resulted in 37% of primary places going unfilled.
Council officers have also pointed to figures suggesting that of the 13 council areas across Scotland in which pupil numbers have dropped by more than 20%, East Dunbartonshire is the only one which has not cut the number of primaries.
'Serious consequences'
An informal consultation on the "viable options", which include closures and mergers, is currently under way.
The council said new "super schools" would have more modern features such as all weather sports grounds, more light, sheltered areas offering outdoor play in wet weather and better facilities for children with disabilities.
But parents have said they do not wish to see successful primary schools "flattened" or "converted into flats".
A number of local action groups have been set up to oppose the council's proposals.
Leonie Bell, who has children at Milngavie Primary, said: "Our schools could be ripped from the hearts of their communities which will have serious consequences for community cohesion and identity, social networks that build around schools, education being genuinely integrated into a place and its history and the economic vibrancy of the towns and suburbs."
She added that she believed "the process of consultation appears to be flawed with misinformation, lack of true evidence and illogical and limiting options."
Debbie Gribbon, a parent with children at Woodhill Primary in Bishopbriggs and the organiser of the rally outside council offices in Kirkintilloch, said: "Many of the proposals mean that local schools are lost."
No closures or mergers are expected to go ahead in the next two years.
The Scottish government has imposed a temporary ban on rural school closures.
The official consultation process over the proposed restructuring in East Dunbartonshire is expected to start in April.
Much of the funding for construction work would come from sale of existing schools.