James Gilfillan jailed for life for Scott Margery murder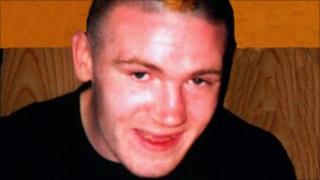 A man has been jailed for life after murdering another man in North Ayrshire over a £10 debt.
James Gilfillan, 23, stabbed 27-year-old Scott Margery in the chest in Stevenston on 18 July 2010.
At the High Court in Glasgow, temporary judge Rita Rae QC ordered Gilfillan to serve at least 18 years in prison.
Gilfillan will initially be detained at the State Hospital in Carstairs after it emerged he is suffering from paranoid schizophrenia.
An earlier hearing was told how Gilfillan stabbed Mr Margery twice after following him into a close in Stevenston.
Killer's boast
He had vowed to go after Mr Margery because the victim's girlfriend owed him £10.
The jury heard how Gilfillan - who has previous convictions for violence and carrying weapons - later boasted to others what he had done.
After being stabbed, Mr Margery tried to call for help from a phone box, but he died a short time later at Crosshouse Hospital in Kilmarnock.
Gilfillan admitted responsibility and claimed his responsibility was diminished at the time due to his mental health. The jury, however, convicted him of murder.
Jailing him, judge Rae QC said: "This is yet another case of a young man carrying a knife in the public streets and, when under the influence of drink or drugs, using that weapon to kill another defenceless young man who was offering no aggression or antagonism."
Speaking after sentencing, procurator fiscal Anthony McGeehan said: "On the night he stabbed Scott Margery to death, James Gilfillan had already been thrown out of a party.
"He was armed with a knife when he met Mr Margery in Stevenston.
"Gilfillan had previously shown ill-feeling towards Mr Margery over a small drugs debt and this resulted in him stabbing Mr Margery in the chest and arm.
"Carrying and using knives is absolutely unacceptable and leads to far too many tragic deaths in Scotland."