Lynda Spence trial: Missing woman was 'police mole'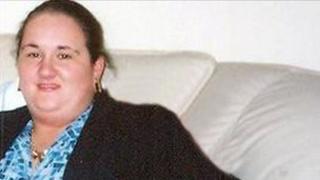 The trial of four men accused of abducting, torturing and murdering a missing financial adviser has been told that she was a police informant.
Defence QC Derek Ogg said Lynda Spence was married to an Albanian criminal, Sokol Zefaj, and had been recruited to provide intelligence about him.
A police witness said this information could have put her life in danger.
David Parker, Paul Smith, Philip Wade and Colin Coats deny killing the 27-year-old Glasgow woman in May 2011.
Cross-examining Det Sgt Aileen Boyle, from Strathclyde Police's major crimes investigation team, Mr Ogg told the trial at the High Court in Glasgow: "She was recruited specifically to provide information, not on Colin Coats or anyone else in the dock but on Albanian Sokol Zefaj.
"She was, in fact, married to him and it was for this reason that she was recruited by the Scottish Crime and Drug Enforcement Agency (SCDEA) and the UK-based Serious Organised Crime Agency."
Det Sgt Boyle was asked by Mr Ogg: "Would you agree with me, that would place Lynda Spence in very serious risk of her life if it was to be disclosed she was informing on an Albanian organised crime gang?" She replied: "If that was the case."
Albanian gang
The police officer was then asked if she knew that, 48 hours after Ms Spence went missing, her handler in the SCDEA was contacted and told she had disappeared.
She was asked if, as a serving police officer, this would cause her concern and she agreed.
The court was told that, at the time she went missing, Ms Spence was living with a Ukrainian woman in Glasgow.
This woman was the former lover of Mr Zefaj and, so the jury was told by Mr Ogg, still in love with him.
Mr Ogg then asked: "As a serving police officer, would you consider it safe for a confidential human intelligence source's identity to be known to the criminal underworld?" She replied: "No."
Earlier, defence QC Gary Allan, representing Mr Wade, asked Det Sgt Boyle if Ms Spence was "up to her neck involved in criminal activity" and she replied that she "was involved".
Mr Allan added: "She had been recruited by the SCDEA to be a grass, a mole on the inside of a criminal organisations," and Det Sgt Boyle said: "I don't know. It's not information that would be shared."
Solicitor General Lesley Thomson QC asked the police officer if anything pointed to an Albanian gang being involved in the alleged murder of Ms Spence and she replied: "Absolutely not."
Thousands 'handed over'
Det Sgt Colin McKenzie told the court that Ms Spence had been under investigation by the SCDEA for mortgage fraud involving large numbers of the Chinese community - and that the inquiry was closing in.
The jury heard that Interpol and Europol said in October 2011 that it had received intelligence that Ms Spence, whose body has never been found, had fled to Albania with Mr Zefaj and was alive and well.
However, Det Sgt McKenzie said that neither crime fighting agency had any official information about Ms Spence, although he admitted that he did not know if anyone had phoned the Interpol office in Tirana, Albania's capital, to inquire about her.
Ms Spence's best friend from secondary school, Amanda Robertson, said that she worked for a company, Fraser Properties, set up by Ms Spence in Great Western Road, Glasgow, as an office worker but left in 2010 after many customers began to complain about the mortgage and lettings company.
Ms Robertson told the court that she met murder accused Colin Coats in the company of Ms Spence a number of times.
On the first occasion, he got into the back of the car and handed over several thousand pounds in cash.
All four accused deny all the charges against them. The trial before judge Lord Pentland continues.