Kimberley Hainey appeals conviction for murdering son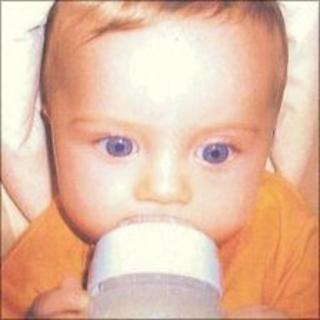 A mother who was jailed for life for murdering her toddler son and hiding his body at their Renfrewshire flat has begun an appeal against her conviction.
Kimberley Hainey, 38, was jailed for a minimum of 15 years for killing Declan at their home in Bruce Road, Paisley.
The child's mummified body was found in his cot in March 2010 - eight months after he was last seen alive.
Hainey is challenging her conviction on the grounds that crucial evidence against her was flawed.
A jury found Hainey guilty of murder and neglecting her son at the High Court in Glasgow in December 2011.
'Downward spiral'
The court heard how the heroin addict had abandoned her son for long periods of time without food or drink in their squalid flat, while she partied, drank and took drugs.
Jurors rejected Hainey's claim that she had woken one morning to find Declan dead in his cot and had not reported the tragedy because, as defence QC Edward Targowski explained: "She simply went into a downward spiral".
At the Court of Criminal Appeal in Edinburgh, Lord Clarke - sitting with Lords Mackay of Drumadoon and Drummond Young - have begun hearing Hainey's attempt to overturn her convictions for murder and attempting to pervert the course of justice.
Mr Targowski told the judges that so-called "Harris lines" on growing bones were not necessarily a symptom of stress, illness or malnutrition.
Scientists, he said, were divided on the issue.
During Hainey's trial Prof Sue Black compared Declan's bones with archaeological finds from Chile and Switzerland to back her theory that the youngster had been starved.
She dismissed academics who disagreed with her.
"I believe it is unsound science," she told the jury. "I think it is the worst possible kind of science."
Mr Targowski pointed out that Prof Black, who lectures in anatomy and forensic anthropology at Dundee University, was an expert in her own field, but not a medic.
The lawyer claimed "Harris lines" were something a paediatrician would not take account of in day-to-day practice.
"They may be signs of growth spurts. There may be an explanation for them which is not sinister," added Mr Targowski.
Post-mortem witness
The judges also heard that another "expert witness", who corroborated Prof Black's report which was prepared for the trial, had an important qualification - he was tall.
Mr Targowski said Dr Craig Cunningham was asked to observe Declan's post-mortem examination because he could see over the heads of others in the crowded operating theatre.
The court heard that Dr Cunningham, 27, of Dundee University, still considered himself a trainee and Prof Black, who had supervised his PhD, was his line manager.
He said at the trial that his involvement in the Hainey case had been to gain some training in the field.
The hearing is expected to continue on Thursday with advocate depute Andrew Stewart QC explaining why the Crown believes Hainey's conviction should stand.
It is likely that the judges will give their ruling, in writing, at a later date.