2013 Glasgow Film Festival to show 57 UK premieres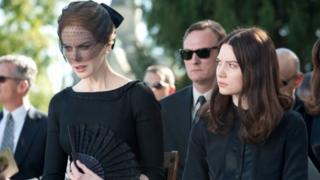 The programme for this year's Glasgow Film Festival has been announced - featuring 57 UK premieres.
The event, now in its ninth year, runs from 14-24 February and includes 368 film screenings, panel discussions, live performances and special events.
The festival opens on Valentine's Day with a British first showing of the French romantic comedy Populaire.
Joss Whedon's Much Ado About Nothing will close the festival on the night of the 85th Academy Awards.
Festival co-director Allan Hunter said: "Glasgow Film Festival has grown into a massive celebration of every aspect of the moving image.
"We all spend part of our lives watching films, playing games or catching up with television but there is still nothing to match sharing the experience with fellow enthusiasts, meeting the filmmakers and finding fresh inspiration.
"We are extremely proud of an ambitious 2013 programme that promises unforgettable moments in venues all across the city."
Among the 57 UK premieres are Stoker, starring Mia Wasikowska and Nicole Kidman; The Place Beyond the Pines, which reunites Ryan Gosling with Blue Valentine director Derek Cianfrance; and Neil Jordan's dark vampire thriller Byzantium, with Saoirse Ronan and Gemma Arterton.
Other premiere highlights include Arbitrage, featuring Richard Gere; Mama, starring Jessica Chastain; and The Paperboy, with a Golden Globe-nominated performance by Nicole Kidman alongside Matthew McConaughey.
Homegrown actors James McAvoy, Peter Mullan and Mark Strong star in the UK premiere of thriller Welcome to the Punch.
Game of Thrones
A panel of actors from HBO's award-winning Game of Thrones will introduce an episode screening and launch season three.
Other highlights will see comic book creators John Wagner (Judge Dredd), Mark Millar (Kick-Ass) and Steve Niles (30 Days of Night) discuss their work.
The first ever film screening in Glasgow Cathedral will be held with the showing of the 1928 silent classic, The Passion of Joan of Arc. The performance will feature a brand new live score for organ and soprano.
Scotland's First Minister Alex Salmond will also attend to introduce his favourite "geek cinema classic".
The 10-day celebration of film also includes a number of mini-events, such as Glasgow Short Film Festival, Scottish Short Film Award, Glasgow Youth Film Festival and Glasgow Music and Film Festival.