Kieran Mason sentenced for stabbing John Howson in Coatbridge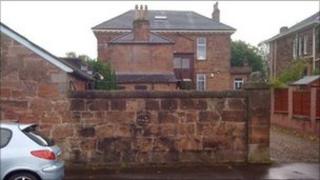 A teenager who admitted stabbing a 57-year-old teacher who tried to stop a neighbour's car from being stolen has been given a non-custodial sentence.
Kieran Mason, 16, admitted attacking John Howson outside his home in Blairhill, Coatbridge, in October 2011.
He was given a community payback order at the High Court in Edinburgh and told to carry out 255 hours of unpaid work.
Co-accused Liam Brown, 20, was previously jailed for 51 months after admitting his part in the attack.
He was also ordered to be kept under supervision for a further two years.
Guilty pleas
Both accused were originally charged with attempted murder but had guilty pleas accepted to the reduced charge of assault to the danger of life.
A previous hearing at the High Court in Glasgow heard how Brown and Mason, who was 15 at the time, along with another male, had been prowling the streets after taking alcohol or valium pills.
The pair and their friend were then spotted by residents trying to break into cars in the Blairhill area of Coatbridge.
Mr Howson's wife Aileen alerted her husband and he got dressed to investigate what was happening.
He noticed a gate was open before spotting Brown peering into a vehicle.
The chemistry teacher yelled across, but Brown shouted back asking what business it was of his.
Mr Howson was then punched to the ground before he tried to get back to his home.
Mason and the other male appeared and Mr Howson was beaten again, causing his glasses to break.
Before he could get to safety, he was stabbed with a six-inch knife.
A blood-soaked Mr Howson shouted for his wife as the teenagers fled the scene.
He was then helped by a neighbour - who is a doctor - before an ambulance arrived to take him to hospital.
Mr Howson was treated by medics, but was well enough to be discharged later.
Brown and Mason, both from Coatbridge, initially denied being involved in the attack when they were questioned by police.
Feelings of guilt
Imposing a community payback order at the High Court in Edinburgh, Lord Jones told Mason: "You appear to have shown genuine remorse for your part in and the consequences of this incident."
The judge said that in May last year the youth had made a serious attempt to take his own life.
Emergency services were called and it was established it resulted from his feelings of guilt.
Lord Jones said it was considered that the first offender was unlikely to cause serious harm in the future.
The judge noted that it was considered Mason was being led by a co-accused and another male, who were both older, at the time of the crime.
A background report on Mason had suggested a non-custodial disposal and the judge said he had earlier indicated he was prepared to give serious consideration to that option "in the very special circumstances of this particular case".
Lord Jones said: "A community payback order is a punishment that requires you to pay back to the community for the offence you committed."
The judge said he was satisfied the offence was serious enough to warrant the imposition of such an order as he had said in other circumstances it would have attracted "a lengthy period of detention".
He ordered that Mason should be subject to an offender supervision requirement for three years and imposed a mental health treatment requirement.