Pay-off for charity boss Ronnie Saez branded 'misconduct'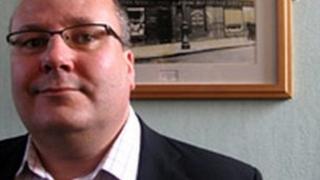 The charities watchdog has ruled that an over-generous pension pay-off to the boss of an urban regeneration firm amounted to "misconduct".
The probe examined the severance package for Ronnie Saez, former chief executive of the now-defunct Glasgow East Regeneration Agency (Gera).
It focused on a "discretionary" pension augmentation of £232,708 by trustees.
The Scottish Charity Regulator said this was inappropriate and amounted to "misconduct in the administration".
The watchdog said it investigated after a complaint was lodged following media reports that Mr Saez had been awarded a severance package worth £500,000.
Required payments
It found that the package contained three elements - two of which the charity was required to pay.
The first of these was a statutory redundancy, and the other was a pension fund payment agreed between the charity and Mr Saez when he took up his employment.
The final element of the package was a payment to augment his period of membership of the Strathclyde Pension Scheme by more than six years.
The regulator said: "The cost of this discretionary augmentation agreed by the charity trustees amounted to £232,708 from the charity's assets."
In its findings, the watchdog said: "We consider that the actions of the charity trustees in this instance constituted misconduct in the administration of the charity.
"However, the payment has already been made and the charity is in the final stages of being dissolved.
"We find this position wholly unsatisfactory, but unfortunately have no powers to recoup the funds for use in the charitable sector."
The watchdog also highlighted issues of trustees not attending meetings and fulfilling their statutory duties in overseeing the publicly-funded body.
The report said: "During the course of our inquiry we were made aware that one of the charity trustees had not attended board meetings of the charity for the past three years.
"This charity trustee had offered to resign but this offer had been turned down by the board. As a result, this charity trustee continued to be sent meeting papers and submitted apologies to the board secretary.
"We would expect that when a charity trustee ceases to attend meetings that trustee should resign or the other charity trustees should resolve to remove that charity trustee and ensure the necessary succession steps are taken as required."
The regulator said that although it had the power to disqualify individuals from acting as charity trustees, it would not do so in this case.
The report concluded: "We consider that drawing the breach to the charity trustees' attention and setting out our expectation of them for the future is, on balance, the proportionate action to take."