St Margaret's Hospice top rated by health inspectors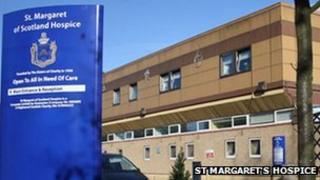 A Scottish hospice has received the best ever report by a health watchdog.
The Healthcare Environment Inspectorate gave St Margaret's Hospice in Clydebank the maximum score of six out of six in every category examined.
The West Dunbartonshire facility's quality of care, environment and management were all rated "excellent'.
The hospice faced closure after NHS Greater Glasgow and Clyde considered withdrawing £1.2m from its budget - a proposal that was withdrawn in 2009.
St Margaret's has a total of 60 beds - 30 for frail adults with complex needs and 30 palliative care beds.
'High standards'
The inspection visit took place on 14 November 2012.
Speaking of the report, chief inspector Susan Brimelow said: "We found that people who used St Margaret of Scotland Hospice were very complimentary about the service and were encouraged to raise issues so that staff could make improvements.
"Staff were motivated and spoke with pride and passion about their work, and the hospice was very pleasant, comfortable and well maintained both inside and out.
"This inspection resulted in no requirements or recommendations. We will continue to inspect St Margaret of Scotland Hospice to ensure that it maintains this high standard of care."
Professor Leo Martin, chairman of the hospice's board of directors, said the report was "not a surprise to anyone who has been touched by St Margaret's".
"The findings reinforce the excellent management at the hospice and the care and dedication of all of our staff," he said.
St Margaret's said that funding of the hospice was still being considered by the Petitions Committee at the Scottish Parliament.
Petitioner Jean Anne Mitchell said: "I am absolutely thrilled to read that the hospice has had such an excellent report although I am in no way surprised because of my own personal and family experience of the hospice.
"I am continuing with my petition as I believe that a comparison of funding shows that St Margaret of Scotland Hospice receives substantially less funding than the sector average. This requires to be addressed.
"Despite the lack of funding, through the dedication of the board, the staff, supporters and volunteers, the hospice continues to perform at the highest possible level."