Public spaces are our 'living rooms'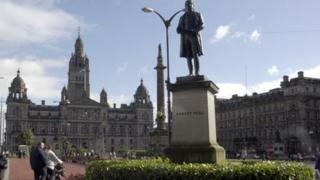 The new design for the redevelopment of George Square in Glasgow is to be announced later this week. Glasgow is just one of a number of towns or cities around the country to have been thinking about its public spaces. How important are they and why do plans to change them sometimes prove so controversial?
From the very earliest times, the streets and squares of any town or city were where people met and came together.
"They've always been our living rooms in a way," says John Glenday, the editor of Urban Realm magazine.
"Going back not so long ago people would have been living in slums, the home was not a happy place to be and people would want to escape it either by going to the pub or heading outside. Parks and public spaces were the place to do that.
"People could mingle and meet friends, relatives, and catch up."
Looking across a post-Christmas George Square, bereft of its fairground rides and other Christmas paraphernalia, he talks of the need for an "overarching vision" for the square, recognition of how important our public spaces have always been to us.
Many of those hurrying round the edge of the square have smartphones either cupped to their ear or with thumbs flying over the keys as they text.
Even so, one of those passing-by says: "It's nicer, it's easier catching up face-to-face than it is on phones."
In a public space, she would be looking for somewhere to socialise with friends.
A man tells me, for him, a public space is "a place where people can meet, easy access, lots of amenities there, toilets, restaurants, family-friendly".
Just down the road from George Square and I have come to Buchanan Street to meet Riccardo Marini.
He is city design leader for Glasgow's sometime rival, Edinburgh, but he is also a senior consultant for Gehl Architects, a Danish-based company which works worldwide on "place-making" projects.
As we sit on a bench on a cold, late afternoon there is a very clear sense of place - Glasgow voices, brightly-lit shops and now and again beneath your feet it is possible to feel the vibrations from passing subway trains.
"You need to understand what makes humans feel good, what makes them gravitate," says Mr Marini, expanding on what he thinks makes a successful space.
Sit closer
It is not just aesthetics but things which make a difference to people's lives such as space, noise, glare and the speed of both themselves and things around them.
"If I was to sit closer to you than I am now, you would start to feel uncomfortable because we don't know each other," he continues.
"So that's a very simple issue related to space."
Mr Marini adds: "There are certain things that we as a species react to in a positive and a negative way and good place-making understands those."
He says many of our places now cater more for cars than pedestrians.
"Cars are essential, don't get me wrong, I'm not anti-car, but I don't want the world to be shaped around a car.
"If you were to come from outer space and to land in any UK city and read the information that the place tells in terms of bollards, yellow lines, signs related to cars and things and compare that to the signage or the communication designed specifically for human beings you'd think that cars were the dominant species on the planet."
Redevelopment plans can sometimes arouse very strong passions indeed, as in the case of Aberdeen.
The businessman, Sir Ian Wood, had pledged millions for a plan to transform the city's Union Terrace Gardens. In the end, the proposals for a City Garden Project were narrowly rejected after a council debate last year.
But in a number of Scotland towns and cities there seems to have been renewed thought about public spaces and what makes them good ones.
"We've just left a period of boom we are now in a period of austerity," muses John Glenday.
"We're belt-tightening and perhaps looking for simpler pleasures in life, going for a walk in the park. I think city councils are cottoning on to that."
He also talks of a "bit of a civic arms race".
"When we saw the city chambers (in Glasgow) being erected it was in competition with the likes of Manchester and Sheffield and perhaps there's something similar going on today in Scotland, where Aberdeen's competing with Perth which is competing with Glasgow to have the best public space."
Humans have always manipulated their environment and that, for Riccardo Marini, is one of the joys of a place, like one of his favourites - Venice, which he describes as "110% man-made".
"There's nothing there that man did not decide to put there," he says.
He argues that the place can have a huge impact on the way the human beings within it live their lives.
"Edinburgh, the natural beauty of it is enhanced by the encrustation of man - the castle, the New Town, the Old Town. What makes that place memorable and beautiful is that humans have used it effectively and made it into this wonderful place."