Lorraine Clark: First woman to officiate Ibrox match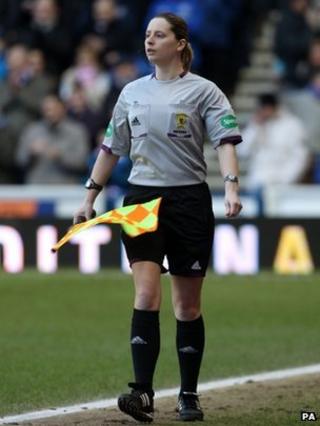 A council worker has made football history by becoming the first woman to officiate in a match at Ibrox.
Lorraine Clark, from Thornton, has been a referee for 10 years and was an assistant in the Rangers v Berwick Rangers game on Saturday.
The 27-year-old, an electrical engineer with Fife Council, was recently promoted to the Fifa list of referees.
She is a regular official at junior games and hopes eventually for a role in the Scottish Premier League.
Ms Clark was running the line in front of almost 45,000 fans at Ibrox, quite different from the crowd of 200 supporters at the junior match she refereed last weekend.
She said: "I have always loved football and this is everything I have worked and aimed for over the last 10 years.
"My ambition is to work in the SPL and this is hopefully the next step."
The Glasgow side won the Scottish Third Division match 4-2.
Alan Paul, senior manager of property services at Fife Council, said: "We are extremely proud of Lorraine's achievements in football, especially as it is predominately a male sport.
"She has managed to juggle the demands of her job as an electrical engineer in property services, working on sustainability projects for schools and care homes, while undertaking her duties as a referee.
"We see her out running at lunchtimes and she's an inspiration to us all to do more."