STV awarded Glasgow and Edinburgh local TV licences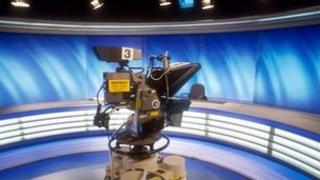 New local TV licences have been awarded to provide evening broadcasting for Edinburgh and Glasgow.
Both of them are going to STV, which already runs the main Channel 3 service for most of Scotland.
The new Freeview channels are to be known as ETV in Edinburgh and GTV in Glasgow.
They are due to start operating by October, and will include city news, sports and community participation.
The two cities are to have the only Scottish licences being awarded, out of 21 around the UK.
Aberdeen, Ayr, Inverness and Dundee are on the shortlist for second phase licences at a later date.
University partnership
The UK government has chosen to use part of the BBC licence fee to fund the project.
It believes the services could help re-engage people with local democracy and provide a useful public service.
Critics of the scheme fear local stations will not be commercially viable and will struggle to attract public interest.
An STV statement said: "STV is delighted to have been awarded the Local TV licences for Glasgow and Edinburgh.
"The two services, GTV and ETV, will be delivered in partnership with Glasgow Caledonian University and Edinburgh Napier University.
"GTV and ETV will provide an innovative television service to the communities they serve complementing STV's existing broadcast, online and mobile services.
"These new ventures will also provide media students with opportunities to work and learn in a live broadcast environment."
Priorities
The award of the licences has been given a qualified welcome by the Scottish government.
Cabinet Secretary for Culture and External Affairs Fiona Hyslop said: "I would like to congratulate STV on being awarded the local TV licences for Edinburgh and Glasgow.
"However, these services - which focus on the two largest centres of population that are already well served by media - should not have been the priority for broadcasting in Scotland.
"The priority should be delivering for viewers in the South of Scotland - who are arguably most in need of local television as they currently receive local news on Channel 3 which is broadcast from Gateshead - and addressing the need for choice in public service broadcasting across Scotland, such as through a publicly-funded Scottish Digital Network."
Ms Hyslop added that the decision came at a difficult time for broadcasting in Scotland.
She said: "The television licence fee has been frozen and top sliced by the UK Government to pay for local television and the Welsh channel S4C, at the expense of audiences across Scotland. This damaging settlement has led to job cuts at BBC Scotland, with up to 120 posts going by 2017 - and these cuts are beginning to bite."