Richard Green admits fatally stabbing son John Paul in Springburn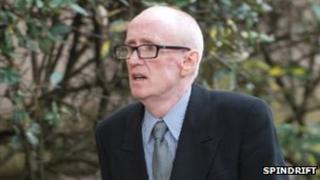 A man has admitted killing his son during a fight after being accused of not protecting him from alleged sexual abuse when he was a child.
Richard Green, 63, stabbed 32-year-old John Paul Green through the heart at his home in Springburn, Glasgow.
The High Court in Glasgow heard that the victim had turned up drunk at his father's home on 7 January last year and attacked him during a row.
Sentence on Green was deferred and he was remanded in custody.
The 63-year-old was originally charged with murder before the Crown accepted his guilty plea to the reduced charge of culpable homicide on the third day of his trial.
The court had earlier heard that John Paul Green, who had alcohol and drug problems, had demanded to know why his father had not protected him from the alleged abuse.
'Very drunk'
Green told his son he had been unaware of anyone abusing him. He was then attacked by John Paul, who also ransacked the house.
During the row, Green, who was recovering from a stroke, picked up a knife and plunged it into his son's chest.
Pathologists said that he would have died within minutes.
Advocate depute Peter McCormack, prosecuting, said: "John Paul Green was very drunk.
"He struck the accused with such force that he suffered two broken ribs. He also bit his father.
"The accused struck his son with a piece of wood and, at some point, got hold of a knife and stabbed him once."
The court heard that Green then went to a neighbour's house and said: "I've stabbed my son" and added: "I think he's dead, it got out of hand.
"It was a silly argument. I didn't mean to kill him. I love my son."
While waiting for an ambulance to arrive, Green went back to his house and tried to stem the bleeding from his son's wound.
'In a trance'
The court was told that John Paul Green was pronounced dead at the scene and his father was taken to Glasgow's Western Infirmary for treatment.
In evidence, Green's other son, also Richard, 36, an oil rig worker, said his father had told him he had been knocked unconscious twice during the fight.
Mr Green added: "He said he tried to get John Paul to stop and he wouldn't stop.
"He said he hit him on the head with a stick and, after that, it was just a blur. He felt as if he was in a trance."
Temporary judge Michael O'Grady QC remanded Green in custody and deferred sentence until next month for background reports.
He said: "This is an anxious, difficult and very tragic case."