Appeal over neglected dog 'Tyson' found in Glasgow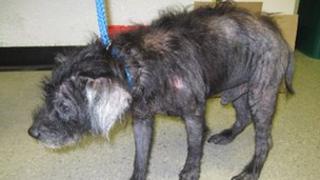 An animal charity has appealed for information after a dog was found "in a terrible condition" in Glasgow.
The Scottish SPCA said the male terrier cross was found by a member of the public at Panmure Street, next to Firhill Stadium, on 28 December.
It was wearing a collar with the name Tyson and was suffering from a severe skin condition and ear infections.
The dog, which is about seven or eight years old, is being cared for at the charity's Glasgow rescue centre.
Senior Inspector Billy Linton said, "This dog was wearing a collar with the name 'Tyson' on it when he was found, so we are hoping this will help us to identify his owner.
"Poor Tyson is in a bad way and he has a very low demeanour. He is suffering from a painful skin condition which has been left untreated and he has lost a lot of hair from his body.
'Great suffering'
"Tyson's skin complaint will be painful and irritating but he is now receiving treatment to make him more comfortable.
"His claws are extremely long, indicating he had not been outside for some time before he was found.
"We have no doubt that he has been caused a great deal of suffering through neglect and we are very keen to trace his owner.
"I would appeal to anyone who can tell us who owned Tyson to contact our helpline as soon as possible."