Woman dies in fire at house in Alexandria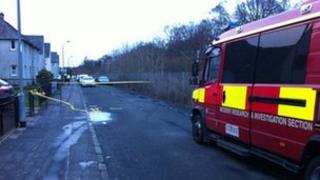 An elderly woman has died in a fire at her home in Dunbartonshire.
Crews were called to the blaze in the two-storey property in Burns Street in Levenvale, Alexandria, at about 06:00.
The 74-year-old woman was rescued but was pronounced dead at scene. Police said there were no suspicious circumstances.
This is the third fire death in the Strathclyde area over the festive period. Fire chiefs have urged people to check smoke alarms are working.
Assistant chief officer Lewis Ramsay, Strathclyde Fire and Rescue, said: "In the event of a fire, a smoke alarm will give you, and your family, vital life-saving minutes to escape safely.
"Every household in Strathclyde should have at least one working smoke alarm.
"If you, or someone you know - a neighbour, friend, or family member - doesn't have a working smoke alarm, I would urge you to fit one immediately or call Strathclyde Fire and Rescue.
"We will supply and fit long life smoke alarms and a heat alarm free of charge."