Francis Coates cleared of John Finnegan shooting murder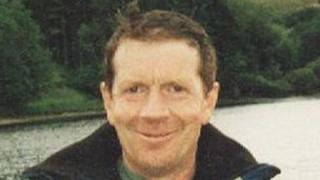 A man has been cleared of a fatal shooting in East Renfrewshire after blaming a dead convicted killer.
Francis Coates, 36, was charged with murdering 48-year-old John Finnegan in Neilston on 27 October last year.
He was found not guilty following a trial at the High Court in Glasgow.
Mr Coates had named another man, Armour Donnell, as the killer, claiming the shooting was carried out on the orders of Stewart Gillespie, who died in a separate incident earlier this year.
In his special defence of incrimination, Mr Coats claimed Mr Donnell had been paid £10,000 by William "Basil" Burns.
Charge withdrawn
They were said to have been acting on the instructions of Gillespie, who was said to be one of the most feared men in Paisley in the 1990s.
Coates showed no emotion as temporary judge Michael O'Grady QC formally acquitted him after the verdict.
James McCarron, 33, had also been accused of being involved in Mr Finnegan's murder, but prosecutors withdrew the charge against him.
During the trial, jurors heard how Mr Finnegan was shot in the face as he walked in Bank Street, Neilston.
His son James recalled seeing his father with another person prior to him being shot.
The 25 year-old told the court: "The next thing I saw was the man pulling his hand then I heard a bang and saw a puff of smoke.
"I froze for a couple of seconds. I then said to my friend: 'My dad has been shot'."
Mr Finnegan was rushed to hospital, but never recovered from his injuries.
Mr Coates gave evidence during the trial and admitted he did not like Mr Finnegan - but denied being responsible for the death.
He was asked by his QC Gary Allan: "It may be suggested that there was a power struggle between business competitors and it would have suited you to have John Finnegan - the main man - out of picture."
He denied the suggestion and also said he had never had a gun.
The man who Mr Coates named as having ordered Mr Finnegan's death - Stewart Gillespie - was stabbed to death at his home in Paisley on 3 October.
A 27-year-old man has since appeared in court charged with his murder.
Gillespie previously served a life sentence for the murder of Mark Rennie in Paisley in 1996.