Death crash diabetic fit driver Brian Docherty jailed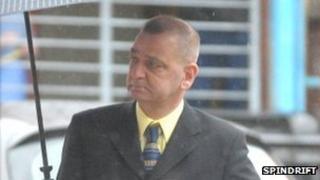 A driver who admitted causing the death of woman in North Lanarkshire after suffering a diabetic fit has been jailed for six years and eight months.
Brian Docherty's car mounted the kerb and hit Elizabeth McGuiness and Barbara McCready in Motherwell in June 2011.
Ms McGuiness, 63, died and Mrs McCready, 64, was seriously injured.
The High Court in Glasgow heard that Docherty, 45, had not told the DVLA about his diabetic condition and should not have been driving at the time.
He also had a poor history of taking medication to control his diabetes.
Hypoglycemic attacks
Jailing him judge Lady Stacey said: "Nothing I can say or indeed anything you can say or do can lessen the grief for the family of Ms McGuiness.
"You will have to live with the knowledge of causing the death of one woman and serious injury to another.
"It was a result of your medical condition. You knew of your condition and failed to take the steps you should have taken which would have led to the surrender of your licence. You knew you were at risk of hypoglycemic attacks.
"You had suffered from such in the past and had suffered from one before the accident."
Lady Stacey also banned Docherty from driving for 10 years.
Docherty admitted causing the death of Ms McGuiness by dangerous driving and leaving Mrs McCready severely injured on 27 June last year.
Ms McGuiness and Mrs McCready had been at a service at Motherwell Cathedral and were walking along the pavement to a nearby cafe when they were knocked down.
Docherty was on his way home having been at the hospital for a foot problem.
The court was shown CCTV footage of the incident.
Docherty drove down a one-way road in Muir Street, Motherwell, but then stopped his car.
'Some kind of fit'
Prosecutor Murdo MacTaggart said: "A witness saw that the accused appeared to be having some kind of fit and that his whole body was shaking."
Despite this, Docherty accelerated forcing other drivers to dodge him.
He then hit a parked car before mounting the pavement where his vehicle struck Ms McGuiness and Mrs McCready.
Ms McGuiness was dragged under the wheels of Docherty's car, while Mrs McCready was thrown into the air.
Docherty's car eventually came to a halt after smashing into nearby railings.
Ms McGuiness - a former nurse who latterly worked as a support worker for North Lanarkshire Council - was pronounced dead at the scene having suffered extensive head and leg injuries.
Mrs McCready was rushed to hospital with multiple fractures.
Docherty later told paramedics that he was diabetic.
'Poor control'
Mr MacTaggart told the court: "It appears the accused suffered a hypoglycemic attack while he was driving.
"His low blood-sugar level would have severely affected his ability to drive and he would have been close to passing out at the time of the incident."
Medical records showed Docherty - who been forced to give up his job as a driver - "poorly controlled" his diabetes.
Mr MacTaggart added: "This would have resulted in the suspension of his licence. He did not notify the DVLA and he continued to hold a full licence.
"He had suffered a number of hypoglycemic attacks in the past. He had attended his GP 12 days before this incident and complained he had suffered an attack during the night."
The court was told how Mrs McCready - a retired school cook - was in hospital for three months after the incident.
She still has difficulty walking and is fearful of being anywhere near traffic.