Terence Carvell jailed for keeping weapons arsenal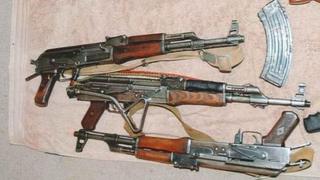 A man who claimed his home in East Dunbartonshire was a "gun museum" has been jailed for five years after being caught with a large arsenal of weapons.
Terence Carvell, 56, was arrested in June this year after police raided his house in Milton of Campsie.
Officers found more than 80 firearms, including three AK-47 assault rifles and thousands of rounds of ammunition.
Carvell admitted to four contraventions of the firearms act when he appeared at the High Court in Glasgow.
Police initially searched Carvell's home in connection with an unrelated matter.
Loft stash
Officers found a large haul of legal weapons including 45 air pistols, 24 air rifles, 11 replica firearms, 10 deactivated guns and an antique gun.
Three AK-47 Kalashnikovs were also discovered stashed in the loft along with a Brazillian-made Rossi five-shot revolver.
A total of 2,162 live bulleted cartridges of 104 different calibres were also seized, along with several hundred rounds of inert cartridges.
Among the ammunition were 30 Chinese cartridges for use with the three AK 47s.
Carvell claimed the assault rifles, which are capable of firing 10 rounds a second, were for a wall display.
They were found unmounted, however, and had been treated with anti-rust spray.
Carvell's legal team argued at a hearing prior to sentencing that he should not receive the minimum jail-term of five years.
The mortgage broker said he bought the AK-47s at a gun fair in Nottingham 20 years ago.
The revolver had allegedly been purchased from a man in Falkirk for £80, but Carvell claimed that he thought it was deactivated.
He also described his house as a "gun museum" and said visitors came from all over the world to see his collection.
Display claim
Carvell said the collection was started by his grandfather and featured many rare examples which were more than 100 years old.
He told the court: "My interest is not in having live guns - my interest is having them on walls.
"I would not have bought them if I knew that they were working."
Prosecutor Richard Goddard said Carvell must have been "incredibly unlucky on a number of occasions" to have bought guns he reckoned were deactivated.
Mr Goddard also questioned why there were 30 live bullets for the AK-47s - but Carvell claimed he thought they were duds and had used them to make key rings.
Gordon Jackson QC, defending, said Carvell was "a non-criminal who had fallen foul of the law".
But judge Lord Bracadale said he could not find "exceptional circumstances" for Carvell to avoid prison.
The judge added: "The law regards the possession of firearms of these prohibited types very seriously."