Neil Lennon bomb plot pair Muirhead and McKenzie refused bail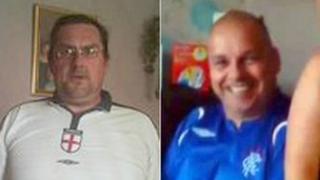 Two men who were jailed for sending suspect packages to Celtic manager Neil Lennon and two others have been refused bail while their appeal is considered.
Trevor Muirhead, 44, and Neil McKenzie, 43, were found guilty of conspiracy to assault Mr Lennon, former MSP Trish Godman and the late Paul McBride QC.
They were each jailed for five years for sending devices they believed could explode and cause injury.
Both will remain in jail until judges issue a written ruling on their case.
Lawyers for Muirhead, from Kilwinning, and McKenzie, of Saltcoats, have been trying to overturn their convictions at the Court of Criminal Appeal in Edinburgh.
They claim the North Ayrshire men suffered a miscarriage of justice because the packages sent were obviously hoaxes.
The parcels were posted in March last year in the aftermath of a confrontation between Mr Lennon and Rangers' manager Ally McCoist during an Old Firm game.
The Crown said the convictions should stand even if the devices were incapable of detonating.
After two days of legal argument, Lord Menzies, sitting with Lady Clark and Lord Philip, said they would take time to consider their ruling.
Defence QCs Gordon Jackson and Donald Findlay asked for the men to be released on bail pending the result, but the request was refused.
Muirhead and McKenzie will continue to serve their five year sentences while they wait for the judges to issue their written ruling at a later date.