Muirhead and McKenzie appeal Neil Lennon bomb plot convictions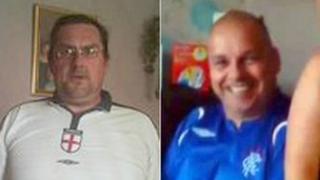 Two men have launched an appeal against their convictions for sending suspect packages to Celtic manager Neil Lennon and two high-profile fans of the club.
Trevor Muirhead, 44, and Neil McKenzie, 43, were found guilty of conspiracy to assault Mr Lennon, former MSP Trish Godman and the late Paul McBride QC.
They were each jailed for five years for sending devices they believed could explode and cause injury.
Both men want the charge dismissed, claiming an explosion was not possible.
Their appeal is being heard by Lord Menzies, sitting with Lady Clark and Lord Philip at the Court of Criminal Appeal in Edinburgh.
Package analysed
Defence QC Gordon Jackson told the court that the charge should be thrown out because the packages could not have exploded.
Only the package addressed to Ms Goodman's constituency office was analysed.
Inside was a plastic bottle containing an explosive which could have been made from easily obtainable ingredients known as TATP.
But, said Mr Jackson, the amount involved was less than that required to cause even "a pop".
He described the packages as "very unpleasant hoax parcels" but insisted that if the "bomb makers" knew they could not explode they could not be convicted of conspiracy to assault.
"They had to believe that the devices would explode and cause damage," he said.
The lawyer dismissed claims made during their trial about telling a relation of Muirhead not to walk past a post box or not to look out if he heard a bang in the night.
"They had meant a joke or a flippant comment or whatever," he said.
The hearing is expected to last into Wednesday, with the possibility that the judges will give their decision in writing at a later date.