Glasgow Fort shopping centre growth may create 500 jobs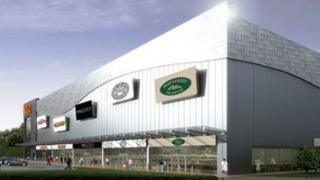 One of Glasgow's largest shopping centres is set to expand, creating up to 500 jobs, it has been announced.
Glasgow City Council has agreed a £6m land sale deal that will allow the Fort shopping centre, off the M8 near Easterhouse, to grow by 175,000 sq ft.
It is thought that 50 jobs could be created during the construction phase with 450 new posts being added once the additional retail facilities open.
The Fort opened in 2004. It employs about 2,000 people in about 90 shops.
About two thirds of employees come from the local area, which had traditionally been an area of high unemployment in Glasgow's east end.
'Further investment'
The council gave the go-ahead on Thursday for an agreement between City Property - which manages its commercial property portfolio - and Hercules Unit Trust, head tenant at the Fort.
Bailie Liz Cameron, executive member for jobs and the economy, said: "Glasgow Fort has been a great success story in the city's east end, attracting a fantastic number of jobs and businesses.
"This positive economic impact will be taken to a new level by today's decision, hopefully attracting further investment to the area which would bring many new jobs to local people.
"The sum paid by the developers as part of this agreement is a very welcome contribution to the continuing regeneration of this part of Glasgow."