German airline switches route from Edinburgh to Glasgow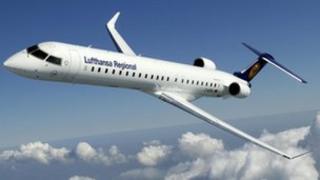 German airline Lufthansa Regional has switched its Düsseldorf service from Edinburgh Airport to Glasgow Airport.
From 8 April 2013, Lufthansa will run six flights per week from Glasgow, then a daily service from 24 June.
Glasgow Airport said it was delighted to host the route which connected two "economic powerhouses".
Edinburgh Airport said it could not understand the commercial logic behind the move and believed its service would have better served Scottish passengers.
Glasgow said Lufthansa's decision would see it host direct flights to Düsseldorf for the first time in 20 years.
'Economic powerhouses'
Managing director Amanda McMillan said the route would prove popular with the business community and help generate in-bound tourism for Glasgow.
"Not only will it result in a direct, daily flight to one of the wealthiest regions in Europe, our passengers will once again have access to the extensive onward connectivity offered by the Lufthansa network," she said.
"Both Düsseldorf and Glasgow are economic powerhouses in their own right and whilst there will undoubtedly be strong demand for this service from within the business community, it will prove a big draw for leisure travellers and has huge potential to generate significant in-bound tourism for Glasgow.
"If we are to further enhance Scotland's global connectivity then Glasgow must have links with European hubs such as Düsseldorf and we are looking forward to working with Lufthansa to ensure the success of this route."
Glasgow City Council leader Gordon Matheson said the new route had been supported through the authority's air route development fund.
"Germany represents the largest international market for Glasgow with more than 71,000 trips made each year by German visitors who generate more than £19m for the local economy," he said.
"The benefits of this new service are two-fold. Firstly, it presents us with a significant opportunity to grow short-break leisure tourism from Germany.
"Secondly, increased access is a key driver in attracting more delegates to the conferences that meet in Glasgow and this vastly improves the city's international competitiveness by providing passengers with greater worldwide connectivity through the Lufthansa network."
Edinburgh Airport had a less than welcome reaction to news that Lufthansa was switching its Düsseldorf service to Glasgow.
A spokesman said: "We can't understand the commercial logic behind this move and firmly believe that retaining the route at Edinburgh would have better served Scottish passengers.
"We'll work hard to convince Lufthansa and all of the airlines serving Scotland that Edinburgh offers significantly more value than any other airport."