Martin Magee convicted of murdering Hugh Porteous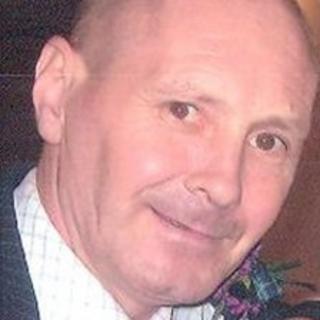 A man is facing a life sentence after being convicted of murdering a painter and decorator in Inverclyde.
Martin Magee, 38, was found guilty of stabbing 49-year-old Hugh Porteous through the heart at a flat in Greenock on 22 August last year.
The High Court in Glasgow heard how Mr Porteous was there to price a job when Magee and another man burst in and demanded money and drugs.
The victim was stabbed in a disturbance in which two others were hurt.
The court heard how the flat in Neil Street was a drugs den and Magee and his accomplice had gone there to steal drugs and money.
Mr Porteous was said to have been in the wrong place at the wrong time when he went to price a job for the occupant, David Rice.
Machete attack
While he was there, Magee and the other man burst in, demanded drugs and money and threatened to cut off Mr Rice's fingers.
They then struck him on the head with a machete and a knife before attacking James Kane and assaulting Jacqueline Branchfield by threatening her with a baseball bat.
The court was told that Mr Porteous was stabbed once in the side and the blade sliced through his heart.
Judge Lady Scott will sentence Magee at the High Court in Edinburgh in January, when he will learn how long he will have to serve before being eligible for parole.