Charity regulator called into St George's Tron Kirk row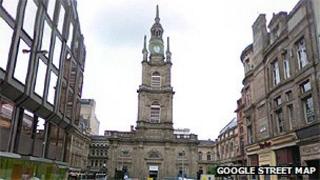 The charity regulator has been called in to a bitter Church of Scotland schism over the issue of gay clergy.
The congregation of St George's Tron Church in Glasgow held a final service as members of the Kirk on Sunday.
The Church called in Sheriff officers last week to recover Church property before the split went ahead.
The Kirk has now written to the charity regulator over "the legality of the transfer of assets" from the Church to the Epaphras Trust before the split.
The dispute between the congregation and the Church of Scotland has led to a bitter row over assets.
Persecution claims
Church authorities said they called in Sheriff's officers after it became "apparent that many items had been removed from the building that we believe belong to the Church of Scotland".
Some members of the congregation have been highly critical of the move, and accused the Kirk of "persecution" and "intimidation".
In a strongly-worded statement, issued on Tuesday, the Church has denied this.
It states: "The claims made by the former minister and his supporters are extreme.
"To claim that the Church of Scotland is persecuting them, intimidating them and acting like a dictatorship does not stand up to examination."
The Kirk also states that it has written to the Office of the Scottish Charity Regulator (OSCR) about a transfer of assets to the Epaphras Trust, a pastoral training and poverty relief charity which is active in Asia and Africa.
It states: "To claim that the Church of Scotland is acting in a heavy handed manner is, in our opinion, merely an attempt to divert attention away from the real issues here.
"These are nothing to do with differing theologies, but about ownership of charitable assets, and the questionable financial management of the former congregation - in particular the legality of the transfer of assets of the Church of Scotland to the Epaphras Trust before the individuals chose to leave the Church of Scotland.
"We have therefore written to OSCR to raise our concerns about the legality of this, as we consider we have a duty to do under charity law."
The issue at the heart of the schism is a decision in 2011 by the Kirk's governing General Assembly to accept gay ministers, provided they had declared their sexuality and were ordained before 2009.
Members of St George's Tron have previously described that decision as having "marginalised the Bible, the written word of God".
In an attempt to find common ground between liberals and traditionalists, the General Assembly established a theological commission on the issue.
It will report in 2013 before a final decision on gay ordination is taken.