£300,000 artwork planned for 2014 Commonwealth Games site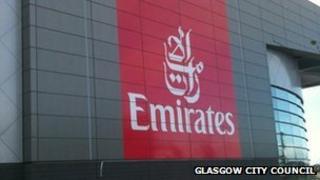 A £300,000 commission has been announced for a new public artwork that will act as a legacy of the 2014 Commonwealth Games in Glasgow.
The finished work, or works, will go on display in the vicinity of one of the main venues - the Emirates Arena - just before the games begin.
Interested artists should provide an expression of interest by 17 January.
Submissions will be considered by a judging panel before a shortlist of five artists is interviewed in May.
The project is being run by Velocity - a partnership between Glasgow Life, Glasgow City Council, Creative Scotland and Clyde Gateway Urban Regeneration Company.
'Rebirth of communities'
Its aim is to link creative activity and local communities through a public art programme.
Councillor Archie Graham, chair of Glasgow Life and depute leader of Glasgow City Council, said: "The east end of Glasgow has been transformed in recent years.
"Now we are looking at how we can add to the rebirth of these communities, through the commission of a world-class artwork which will be a fitting and lasting legacy for the people of Glasgow.
"Glasgow and Scotland has some of the very best talent in creating contemporary visual art but, critically, they will be guided by the people of the east end, who are equally passionate about not only their communities, but how they should be represented."
The commission may result in a single artwork or a series of installations in the area around the Emirates Arena.
Ben Spencer, the producer of Velocity, added: "We are looking for a commission that will be bold and ambitious and helps to further reinforce Glasgow's reputation as an international leader in the arts.
"But more than that, we want this work to be part of a wider programme that helps to re-imagine, repair and reconnect an area of the city which has gone through years of disruption.
"Local people will be actively involved in the process, so that there is a sense of ownership and pride in the finished artwork."
Submissions of interest will be considered by a panel of judges comprising an artist or curator, a representative from Velocity's partner organisations and representatives from the local community.
The shortlist of five artists will be interviewed about their proposals in early May.
It is hoped the finished artwork will be unveiled in the months before the 2014 games.