East Ayrshire Council apology over school meals letter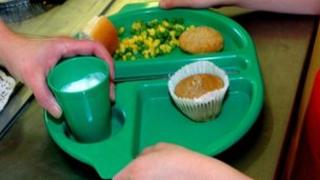 A council has apologised after an East Ayrshire primary said pupils would be limited to "a plain sandwich and water" unless school meals bills were paid.
The warning from Mauchline Primary was issued in a letter which stated that 21 families owed almost £90.
However, education director Graham Short has said the letter did not reflect council policy and "should not have been issued".
He said it had been "withdrawn" and an apology issued to parents and carers.
The letter, issued by Mauchline Primary headteacher Lynne McLean, states: "Unfortunately we have become aware that a number of pupils are coming along for school meals but have not been given sufficient money by parents to pay for the meal.
'Outstanding debt'
"Sadly this is a weekly occurrence and as an example, last week 21 families accumulated an outstanding debt of £89.90 ranging from 90p to £18."
East Ayrshire Council confirmed that two course lunches were available at the school for up to £1.90 per day.
The letter added: "From Monday December 10 to Friday December 21, pupils who have not brought money to pay for meals will have to wait until the end of service when all paying pupils and free meals pupils have been served.
"From Monday January 7, pupils who have not brought money to pay for meals will be provided with a plain sandwich and water to drink until the backdated debt has been paid, at which time they will again be provided with a full school meal."
East Ayrshire education director Graham Short said that the provisions in the letter "were never implemented" and that there had never been "any intention from the headteacher or the council to stigmatise children".
He said that it was a common occurrence for pupils to forget lunch money and schools always worked round this to ensure children received proper meals.
"The letter which went out from Mauchline Primary School does not reflect East Ayrshire policy and has been withdrawn and an apology issued to all parents and carers by the headteacher," he added.
"Its proposals have not been implemented. A blanket letter of this type should not have been issued."