Billy Connolly picks up Bafta for life's work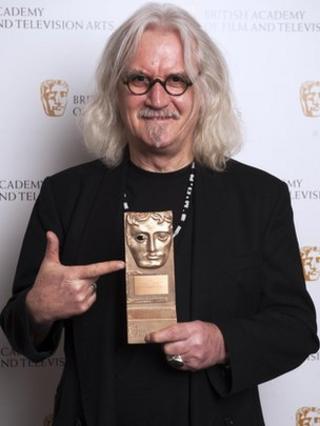 Compared to some venues Billy Connolly has played, Glasgow's Fruitmarket is a modest size - even if all 500 seats have been snapped up. But it is home turf, as evidenced by the man from the Gorbals in the audience who wants to tell the man from Partick how influential he has been.
The event was staged to allow Connolly to pick up his Bafta Scotland award, for Outstanding Contribution, in person. So this was a romp through his best-known screen roles, complete with Connolly's inimitable commentary.
Film, he told interviewer Francine Stock, was something he had always loved, as a boy watching Westerns in cinemas in Glasgow.
Peter MacDougall, he said, was responsible for first getting him into acting: "He said, I've just written you, and I read the script (Just Another Saturday) and I realised he HAD written me."
Director Anthony Page cast him in Absolution (1978), alongside Richard Burton, "because he wanted a hippy who could play a banjo and ride a motorbike".
He only met Burton 15 minutes before filming.
Connolly says: "He was wearing a mink jacket. I just thought, a mink jacket? Give me a break!"
"He was the biggest star on the planet. The nearest I'd come before that was seeing Roy Rogers at the Glasgow Empire."
He recalled being buried alive by Burton in the film.
"And they actually put me into the ground and put earth on me and because they were filming Richard Burton from behind, he was singing the whole time. 'I belong to Glasgow, dear old Glasgow town, there's nothing the matter with Glasgow when you're buried underground'."
Connolly said his Catholic background helped him to give Burton, who was playing a priest, some advice.
"He - Burton - would walk around with his fags in his hand and I'd say 'cassocks have pockets, you know'. 'Look here'."
He told the audience he felt limited as an actor.
"I never get asked to do auditions. They generally know what they want from me. But that was true of James Mason too, so that doesn't worry me."
"I'm amazed they always want the Glasgow accent. They don't seem to mind, whatever the setting. Sometimes I'm the only one with a Glasgow accent and no one seems to question it. It's like a classic joke: A Glaswegian walks into a film..."
He said had not heard anything about John Brown before taking the role in the film Mrs Brown (1997) - "except that he'd had it off with the Queen. What else do you need to know?"
For the role he had to master riding a horse, and read between the lines with his co-star Judi Dench, who played Queen Victoria.
"At one point, I thought she actually fancied me. We were dancing an eightsome reel and she was all flushed and flirty and I thought she's coming on to me. And then I realised it was Queen Victoria who fancied me. So I did it back and it seemed to work."
'Ginks and Gonks'
He is dismissive of method acting although he admits he tells the crew to give him time to concentrate on his lines when he's on set.
"I called my wife - Pamela Stephenson - and said "how do you act?" And she said 'it is beyond words'. 'Use your feelings. Think with your eyes.' As Shelley winters said: 'speak quietly and think out loud'."
Connolly has just finished making the second instalment of The Hobbit in New Zealand - "playing this incredible dwarf king who rides a pig and kills people with an axe".
He said he told director Peter Jackson he had not read The Hobbit and didn't like people who had.
"We're making a film, not a book. Where I grew up, there were Tolkien people and Incredible String Band people and I was definitely one of the Incredible String Band people and we didn't like the Tolkien people. You get a lot of them at the Edinburgh festival, armed with pamphlets, and they haven't seen any shows. I'm also very suspicious of anyone who is upset about wars between Ginks and Gonks."
His infamously fraught relationship with the press continues.
"Last week I was at an event for the foreign journalists association and this big skinny woman said to me - you're so funny, you make us laugh so much, have you ever considered stand-up comedy?' I said, 'have you ever considered journalism?' And these people decide the Golden Globes?"
His latest role in Quartet - which is due out in January was also discussed. He stars alongside Maggie Smith, Tom Courtney and Andrew Sachs, as a retired opera singer.
"I'm the youngest one in the film apart from Sheridan Smith. It's not about dying, it's about staying alive."
His challenge this time was singing.
"We try to keep the home open by singing. We didn't sound like opera singers. We sounded like four old guys singing. The director - Dustin Hoffman - was really moved. I thought he was going to cry."
In the end, it was Connolly who cried as he accepted his Bafta Scotland award from fellow comedian Kevin Bridges.
"It's a delightful thing, coming from Scotland. I've been nominated for loads of these things - although sometimes it is like the kid in the remedial class being given a prize for being nice.
"Genuinely, to get this, I'd say it breaks my heart but it definitely touches me, somewhere I live.
"I guess you only get these things once in your life but if we could all meet once a fortnight and do it all again, that would be great."