Nursing home carer Jean Wales guilty of abusing patient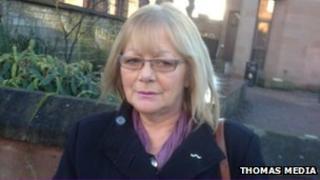 A former carer at a nursing home in East Ayrshire has been convicted of abusing an 85-year-old resident.
Jean Wales, 60, was found guilty of ill-treating the woman and stripping her clothes off at Graceland Nursing Home in Kilmarnock in December 2011.
Wales denied the charge and claimed she had used an "approved technique" to move the woman. She also claimed former colleagues had made up the allegations.
At Kilmarnock Sheriff Court, sentence on Wales was deferred for reports.
The court heard that the former carer shouted and swore repeatedly at the frail resident before pulling her out of her chair.
Visitor 'shocked'
She then dragged the woman back to her room, swore, and told her she had "had enough" of her.
Michelle Boyd, 39, told the court that she was visiting her grandmother when she saw Wales abusing the distressed pensioner.
"She approached her and pulled her out of her chair by the arm," she said.
Mrs Boyd, a carer for 23 years who works at another nursing home, added: "I was shocked because it was unexpected."
Margaret Heaney, 50, a former colleague of Wales, said she was shocked when Wales later spoke of abusing the resident.
Ms Heaney said: "We were having a break when Jean said she had grabbed her and dragged her away to her bedroom.
"I nervously laughed, thinking, 'You did not, did you?'"
Giving evidence in her own defence, Wales claimed she used an approved technique to move the resident.
She added: "I took her arm and put my hand at the back of her so she didn't fall and hit her head."
Wales, from Kilmarnock, claimed her former colleagues had made up the allegations out of jealousy because she had applied for another job.
She told the court: "It's bitching because they all worked together and just wanted to sit and play with their mobile phones. I was good at my job."
Wales will be sentenced next month.