PIN number scam warning from police in Strathclyde and Grampian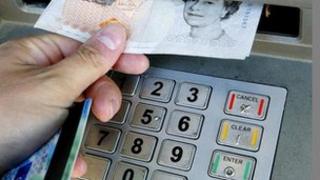 Crime gangs who use a telephone scam to obtain people's banking PINs are increasingly targeting vulnerable people in Scotland, police have said.
Victims are called and told their credit or debit card has to be collected and replaced following fraud.
The caller asks the victim to hang up and call the bank for confirmation.
The criminal stays on the line, asks the victim to key in their PIN, before a courier collects the card which is then used to remove cash.
Figures released by Financial Fraud Action UK and The UK Cards Association show that the scam has caused more than £7.5m worth of fraud on credit and debit cards between January and August 2012.
Fraud intelligence
Over that time, more than 1,600 bank customers have fallen victim, with losses per case averaging at about £4,200.
The scam usually targets elderly and vulnerable bank customers, with fraud intelligence showing that the average age of victims was 69.
Strathclyde, according to fraud intelligence, is a new area to be targeted by organised crime gangs.
The country's largest police force is now urging people to safeguard their PINs and be aware of the scam.
Det Insp Kenny Thomson, of Strathclyde Police, said: "The fraudsters take advantage of people who are often living on their own and take their stories at face value.
"But, it is straightforward to protect yourselves, your relatives and your neighbours by remembering that your bank will never ask for your card and never ask for your PIN.
"Strathclyde Police are working hard to bring those responsible for this fraud to justice and so if you think you have had one of these calls, please do contact us."
Grampian Police also highlighted two recent cases of high value frauds using a telephone scam.
A spokesman added: "As always, people should be wary of providing sensitive information, particularly bank details and passwords, by phone or other means."