Glasgow Royal Infirmary probe over IVF conception rates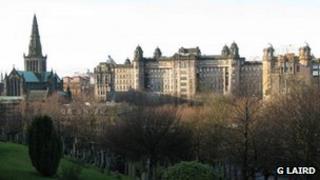 Services at a west of Scotland IVF unit have been moved away from Glasgow Royal Infirmary (GRI) following a significant drop in conception rates.
NHS Greater Glasgow and Clyde said theatre and laboratory services had been temporarily relocated to the city's private Nuffield Hospital.
It followed what a spokeswoman described as an unexplained drop in conception rates at GRI.
So far, investigations have shown no clinical reason for the drop.
NHS Greater Glasgow and Clyde (GGC) said the decrease "in the anticipated success rate" over the previous two months was identified in November.
'Contingency arrangements'
In a statement, the health board said: "We were unable to identify a cause for this decrease however a full internal investigation has been undertaken.
"Through our initial investigations it appears that the decrease in success rates are not as a result of clinical standards at the unit.
"As we continue to try and establish if there is an identifiable reason for the decrease we took the decision to enact our contingency arrangements and temporarily transfer part of the assisted conception service to the Nuffield Hospital in Glasgow who are fully licenced providers."
The laboratory and theatre element of the GRI service transferred last month but outpatient clinics remain at the Glasgow unit.
About 25 NHS patients per week are now receiving their treatment at the Nuffield.
Some medical, nursing and other clinical staff from the GRI unit are working with Nuffield staff to treat NHS patients.
NHS GGS said action was taken "at a very early stage to ensure the highest clinical standards and minimal disruption" for patients.
Dr Helen Lyall, consultant gynaecologist at the GRI unit, said: "Assisted conception success is never guaranteed but we must make sure that every chance possible is given to every single one of our patients.
"The Glasgow Assisted Conception Service is recognised as an excellent unit, achieving higher than national average success rates.
"Patients using our service should be assured that our decision to temporarily move activity to the Nuffield Hospital was a decision based on putting patients first while we look in to what might be the reason for the reduction in our normal success rates."
The GRI unit provides IVF services for four west of Scotland health boards - NHS Greater Glasgow and Clyde, NHS Lanarkshire, NHS Ayrshire and Arran and NHS Dumfries and Galloway.