Engineering award for Cruachan power station's 'hidden' hydro scheme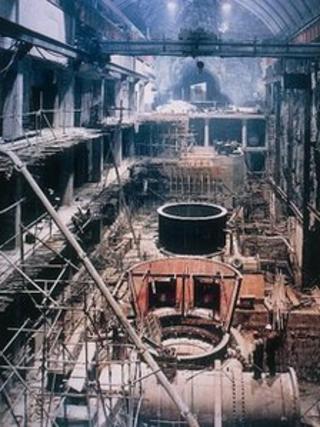 A power station buried deep inside a Scottish mountain has been given a prestigious engineering award.
Cruachan power station in Argyll was the world's first high head reversible pumped-storage hydro scheme.
It received an Institution of Mechanical Engineers' Engineering Heritage Award on Friday.
Previous recipients of the honour include the Titan Crane at Clydebank, the Waverley paddle steamer and the Falkirk Wheel.
The station, which is housed in a man-made cavern, built deep into the heart of Ben Cruachan on the banks of Loch Awe, was constructed between 1959 and 1965 and was the brainchild of Sir Edward MacColl, an engineer and a pioneer of hydro electricity in Scotland.
It is one of only four pumped-storage facilities in Britain and is owned and operated by ScottishPower.
Cruachan generates up to 440,000 kW of electricity during times of peak demand, using water from the upper reservoir on Ben Cruachan to drive the turbines.
With pumped-storage water can be released to generate power at times when consumers need it.
The only visible evidence of its existence is the high storage dam on the slopes of the mountain and the administration office block beside Loch Awe.
Richard Campbell, from the Institution of Mechanical Engineers, said: "Cruachan power station has been a stalwart provider of peak-load electricity for nearly 50 years and is a very worthy recipient of an Engineering Heritage Award.
"Built a kilometre underground on Ben Cruachan, the power station is an awe-inspiring feat of engineering, in one of the most beautiful parts of the country.
"Cruachan was the first pumped-storage power plant of its kind, which represented the cutting edge of early 1960s design and engineering."
He added: "Now almost 50 years after it first opened, Cruachan still plays a valuable role to the country, providing thousands of homes with electricity when demand is at its highest."
Station manager Bob Wales said: "We are of course very proud to be recognised by the institute's Heritage Award.
"Cruachan power station represents an outstanding feat of engineering achievement and continues to provide the much needed flexibility to meet the UK's electricity needs at short notice."