Five held in Glasgow over Italy heroin and cannabis haul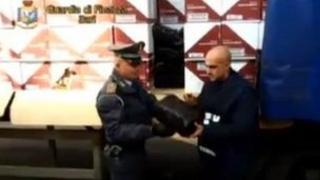 Five men have been arrested in Glasgow in connection with the seizure of a huge consignment of drugs in Italy.
Two Britons, one from Scotland, were arrested on Monday after 41 kilos of heroin and 105 kilos of cannabis were found in a lorry at the port of Bari.
They appeared in court in Bari on Thursday and were remanded in custody.
The five men being held in Glasgow, aged 29, 30, 33, 47 and 56, were arrested over the alleged importation of controlled drugs.
The Scottish Crime and Drug Enforcement Agency (SCDEA) said they had been arrested between 24 and 27 November.
Breadstick boxes
The SCDEA said that it had requested the assistance of Italian authorities to stop and search the lorry, which had arrived from Greece at the Adriatic port of Bari, in southern Italy, on 24 November.
When the vehicle was searched it was found to contain 41 kilos of heroin, with a minimum value on the streets of Scotland of £3.2m - a sum that may "increase dramatically" depending on purity.
Italian officials also seized 105 kilos of cannabis resin, with an estimated street value of more than £1m.
The drugs were packed between boxes of breadsticks, which it is believed were bound for the UK.
As a result of the seizure, two Britons from Scotland and England, aged 30 and 42, were arrested.
The operation which led to the arrests in Glasgow commenced on the same day as the Bari seizure.
SCDEA director Gordon Meldrum said: "This is a significant haul of drugs that were destined for Scotland's shores.
"Through working with our Italian colleagues we have put a stop to these drugs causing harm to Scottish communities.
"We have excellent working relationships with our law enforcement colleagues across the world and this has enabled us to take fast and effective action in this case."