John Finnegan murder accused Francis Coates 'named two others'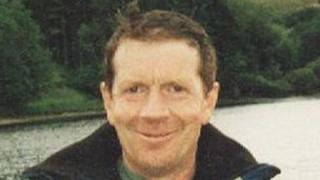 The partner of a man who was fatally shot in East Renfrewshire has told a murder trial that one of the accused told her he knew who was responsible.
Carol Henderson, 40, was giving evidence at the High Court in Glasgow, where James McCarron and Francis Coates are accused of killing John Finnegan.
She said that when she met Mr Coates in the street, he named two men.
Mr McCarron, 33, and Mr Coates, 36, deny murdering Mr Finnegan, 48, in Bank Street, Neilston, on 27 October 2011.
Mother-of-four Ms Henderson told the court that days after her partner's death she met Mr Coates in Bank Street.
She told advocate depute Jonathan Brodie QC: "He was kind of nervous and stuttering.
"He said to me he knew who shot John. He said Paddy Walker shot John and Sammy Turner put up the money."
Halloween party
Ms Henderson told the jury that she met Mr Coates by chance.
Mr Brodie asked: "Had you suggested that he had any involvement in what happened," and she replied: "No."
Earlier Ms Henderson said that on 27 October, her 10-year-old daughter was going to a school Halloween party dressed as a chimney sweep.
The jury was told that Mr Finnegan left with the child to take her to the party about 19:35.
Ms Henderson added: "I asked him to bring me back four beers. He came back in for a cream golf umbrella because he said the rain had started."
She said that about 10 or 15 minutes later a neighbour came to the door of the house she shared with Mr Finnegan and said he had been shot.
Mr Brodie asked her: "Did he tell you that John Finnegan had been shot?" and she replied: "Yes."
The QC then asked: "Did you grab some shoes and rush out," and she said: "Yes."
He then said: "You found John lying on the pavement and injured," and she replied: "Yes."
Gambling claim
The court heard that Mr Finnegan died in hospital after being shot in the face.
Under cross-examination by Mr Coates defence QC Gary Allan, Ms Henderson admitted that Mr Finnegan was a drug dealer who sold Valium.
Mr Allan asked if Mr Finnegan had money and she replied: "No because he was a gambler."
She was then asked if she knew who he got his drugs from and replied: "Paisley somewhere. He said the name was Donnell, but John told me a lot of things that weren't true."
Mr Allan asked if the name Armour Donnell meant anything to her and she said: "No."
She was then asked if she knew he had a brother and again replied: "No."
Mr Allan then said: "He was a man with a reputation. People wouldn't get in the way of John Finnegan if they could help it."
She replied: "I feel like it's being suggested that John was a monster. He was nothing like that."
Both accused deny the charges against them and have lodged special defences of alibi.
The trial before temporary judge Michael O'Grady QC continues.