'Cocaine factory' dealers jailed after drugs worth millions seized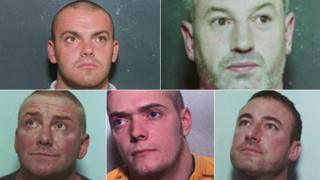 Five men who operated cocaine factories from their homes in the west of Scotland have been given jail terms totalling more than 24 years.
Kristopher Murray, 22, James Fox, 37, Michael Fernandez, 47, Joseph Shields, 29, and Scott Mather, 42, were caught following police raids.
Cocaine, heroin and mixing agent, worth millions of pounds, was recovered from homes in Glasgow and North Lanarkshire.
All five pleaded guilty to involvement in the supply of cocaine.
'Sophisticated factories'
At the High Court in Edinburgh, Murray was jailed for seven years, Fox received five years, Fernandez was ordered to serve four years and two months imprisonment, Shields was sentenced to two years and three months and Mather was jailed for six years.
During the raids, police uncovered "sophisticated cocaine factories" at the men's homes.
This included presses, drugs paraphernalia and large amounts of cocaine.
During Operation Filament, officers raided Kristopher Murray's home in Knightswood, Glasgow, in June 2011.
He was caught with a handgun and seven rounds of ammunition, 1kg of heroin and a 25kg drum of benzocaine, which is used as a mixing agent, worth in total about £75,000.
The following August officers searched the home of Joseph Shields in Glasgow. They found 2.75kg of cocaine, a drum containing 21.5kg of mixing agent and a hydraulic press. Police estimated the drugs and mixing agent seized had a potential street value in excess of £1m.
A raid on Scott Mather's home in Summerston, Glasgow, in September discovered 26kg of heroin, 11kg of cocaine, two hydraulic presses and a 25kg barrel of mixing agent. Officers estimated the value of the haul at £2.25m.
In October 2011, James Fox was found with 5.5kg of cocaine, mixing agent and a hydraulic press at an address in Bellshill. The street value of the seizures was estimated at £1m.
The same month Michael Fernandez was caught with 5kg of cocaine, one of extremely high purity, £4,000 in cash, a hydraulic press and 50kg of mixing agent at his home in Motherwell. The street value of the drugs recovered was put at £2m.
Speaking after sentencing, Lindsey Miller, head of the Serious and Organised Crime Division, said: "Operation Filament was a highly complex investigation, in which Scottish prosecution and law enforcement agencies worked closely with forensic scientists to track gangs operations around Scotland.
"We remain absolutely committed to detecting and disrupting organised crime across the country, and I hope others who may be involved in the drugs trade take heed of this case - it is only a matter of time until you are tracked down and brought to justice."
Det Ch Supt Athol Aitken, from the Scottish Crime and Drug Enforcement Agency, added: "This case highlights the expertise held within the Scottish Police Service and how it can impact on serious and organised crime.
"This operation involved the effective use of law enforcement specialists and advanced techniques to take on a criminal organisation and we continue to develop our intelligence and investigative methods to ensure that we are best equipped to tackle criminality at all levels."