Scots police forces launch festive domestic abuse focus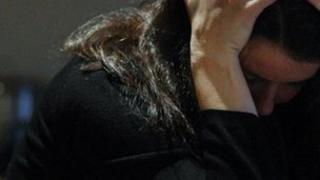 A national police campaign is being launched to tackle domestic abuse in Scotland over the festive period.
The country's eight forces are promising "robust enforcement" action in a bid to tackle the problem.
The campaign, led by the Strathclyde Police-based Violence Reduction Unit, will run from 1 December to 31 January.
The number of reported incidents of domestic abuse in Scotland rose by 7% in 2011-2012, according to government figures issued in October.
The chief statistician said police recorded 59,847 cases, rising from 55,698 the previous year.
The nationwide festive campaign follows a pledge by Stephen House, the new Chief Constable of Scotland, to be "relentless" in tackling domestic abuse as police forces prepare to merge to a unitary body in April next year.
'Heinous crimes'
Ch Insp Graham Goulden, who leads the anti-violence campaign for the Violence Reduction Unit, said: "Forces across Scotland have carried out some fantastic work over the past few years to tackle domestic abuse.
"They have been supported in this by partners like Scottish Women's Aid, Assist, White Ribbon Scotland and many others.
"Together, they have built a powerful united front against this most heinous of crimes, demonstrating clearly that domestic abuse will not be tolerated in 21st Century Scotland and that those who commit it will be dealt with."
Ch Insp Goulden said that while police and partner agencies had their parts to play, domestic abuse was "everyone's problem".
He added: "If we really want to make a difference to levels of domestic abuse, we need to look at our attitudes towards relationships and what we see as acceptable."