Garry Kane guilty of killing his grandmother Kathleen Milward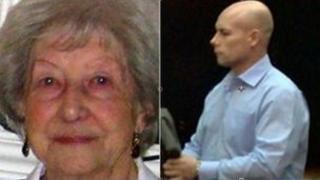 A heroin addict is facing a life sentence for murdering his grandmother at her home in South Lanarkshire.
Garry Kane, 41, had denied attacking 87-year-old Kathleen Milward in Stonehouse on 3 January this year.
Jurors returned a majority guilty verdict after hearing how the OAP suffered 15 head and neck injuries caused by "blunt force trauma".
Kane was living with his grandmother at the time of her death. Sentence at the High Court in Dumbarton was deferred.
During the trial the court heard how Kane had left home at 18 or 19 and had served in the army and lived in England before coming home to Scotland in 2007.
Thrown out
At first he lived with his mother but the court was told that she had thrown the drug addict out after he stole a blu-ray recorder, a camcorder and a ring from her home.
In evidence, Kane's mother, Kathleen, said she had no concerns about her son living with her mother as he had immense love and respect for her.
The 64-year-old also said she would never cover up for him if she thought he had killed her.
The court heard how she had tried to phone her mother on the night she died but got no answer.
She then phoned Kane on his mobile and asked him to check on his grandmother.
In his evidence, Kane claimed that he had left his grandmother's home at about 18:00 to go and buy drugs with money she had given him as a Christmas present.
He said he received the call from his mother and returned to the house in Stonehouse after going to another man's home about a drug deal.
Kane broke down as he described finding Mrs Milward on the kitchen floor.
He told the court he phoned his mother, then phoned the emergency services and performed CPR on his grandmother.
Jurors heard from forensic Scientist Nighean Stevenson that traces of Mrs Milward's blood were found on Kane's jeans and boots.
DNA evidence
His DNA was also found under his grandmother's fingernails.
Pathologist Dr Julia Bell said that a post-mortem examination had found 26 external injuries on the OAP - 15 of which were on her head and neck.
She said "a key factor in her death" had been the "blunt force trauma and hemorrhage from the scalp" which she had suffered, most likely from being attacked.
Drug dealer David McFarlane, 50, told the court how Kane had bought £5 bags of heroin from him the day after Mrs Milward died.
He said that during the encounter Kane had "never cracked a light" that his grandmother had died the day before.
Kane's defence QC Gordon Jackson said in his closing speech that the Crown had presumed his client's guilt and presented its evidence to fit this.
He said Kane deserved a Hollywood Oscar if he had been lying to the jury when he gave evidence in the witness box.
Mr Jackson, referring to Mr Kane's evidence, said: "If he gets found guilty he shouldn't just get the jail he should get a wee Oscar statuette along with it that they give out in Los Angeles.
"This would be a murderer played by Robert De Niro. That's what it would take to do exactly as he did."
The jury of eight men and seven woman convicted Kane of murder by majority verdict following a trial that lasted just over two weeks.
Mother crying
Judge Lord Matthews deferred sentence on Kane and told him: "The jury have found you guilty of a charge of murder. The only sentence I can impose is one of life imprisonment."
The length of time Kane must serve before being eligible to apply for parole will be determined by Lord Matthews next month.
As the verdict was given, Kane's mother Kathleen sat weeping in court.
Outside the court, Kane's aunt Maureen Kennedy said: "Almost a year ago on January 3, 2012 my elderly mother was brutally murdered in the sanctuary of her own home.
"She was a frail 87-year-old who endured a sustained, prolonged and violent attack and despite desperate, but futile attempts to defend herself her life ended on her kitchen floor that day.
"I cannot begin to imagine the suffering in her last moments of life or begin to comprehend how her beloved grandson, who should have been caring for her, could have been so cruel."
Mrs Kennedy said that it was mentioned in court that "Kane had immense love and respect for his gran and that he absolutely adored her".
She continued: "It's been a long and painful year for my family trying to come to terms with the terrible death.
"I believe that ultimately drugs, namely heroin, killed my mother. Drugs are a curse on society. Garry Kane is an addict. His life is a daily struggle to get from one fix to the next."
Mrs Kennedy said that neither her sister, Kane's mother, nor her mother Mrs Milward, could cope with his drug problem which led him to beg, steal and borrow to get his next fix.
'No winners'
She added: "His demands for money to feed his addiction were endless. His gran in the end had had enough and when she told him this she paid the ultimate price."
She said: "I don't hate my nephew, but I hate what he has done. He has caused unspeakable and unbearable pain to all his family.
"Justice has been done, but there are no winners and it won't bring my mother back."
During her comments, Mrs Kennedy, who was accompanied by her husband Ian and children Claire, 25, and Christopher, 28, fought back tears.