Hometown Foundation wants to build Lanarkshire new town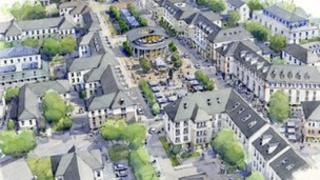 A charity will submit plans to South Lanarkshire Council later to build an eco-friendly new town in the Douglas Valley area near Lanark.
The Hometown Foundation aims to build 3,200 affordable homes and business accommodation on a 2,000 acre site near the existing village of Rigside.
It believes up to 6,000 jobs could be created over the 10-year construction.
The new town would be called Owenstown after Robert Owen, who was behind the New Lanark development 200 years ago.
Plans for the development were first revealed three years ago.
The Hometown Foundation said that since then it had undertaken "an exhaustive programme of public consultation".
Waste energy
Despite modifying its original plan, the charity said the objective - of creating a not-for-profit, co-operative new town model, with a commitment to providing local jobs - remained the same.
Part of the strategy would see Owenstown recycling its waste to produce energy for a district heating system.
The charity also hopes the community would be served by a green transport network, powered by renewable sources.
South Lanarkshire Council is expected to reach a decision on the project next year.