Closing speeches in Kathleen Milward's murder trial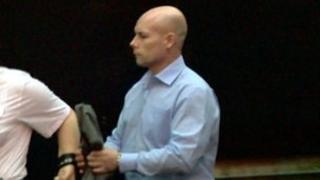 Jurors in the trial of a man accused of killing his grandmother have been urged to convict him over the 87-year-old's "senseless" murder.
At the High Court in Dumbarton, prosecutor Jennifer Bain said Kathleen Milward's only mistake was to allow her drug-addict grandson to live with her.
Defence QC Gordon Jackson said the Crown had presumed Garry Kane's guilt and presented its evidence to fit this.
Mr Kane, 41, denies murdering his grandmother in Stonehouse in January.
The trial previously heard how Mr Kane had been staying with his grandmother in her South Lanarkshire home at the time of her death on 3 January.
'Brutally murdered'
Advocate depute Ms Bain said: "Kathleen Milward made the mistake of putting a roof over her grandson's head when he had nowhere else to go and for this she was brutally murdered."
She added: "We have the big picture - it is clear as day that Garry Kane - a man with motive and opportunity - brutally perpetrated a senseless attack on a 87-year-old woman - his grandmother."
Ms Bain also told jurors that Mrs Milward had previously lived in her home "without incident" for 10 years and had felt "safe" there.
The prosecutor said: "Her life was cruelly taken - she was brutally attacked. She was struck numerous times.
"She was making steak pie for tea and before she could cook the peas to go with it, she was attacked and left in a pool of her own blood.
"She was left seriously injured in her kitchen dying or dead."
Ms Bain said that instead of getting help for his grandmother, Mr Kane called his dealer and went to get drugs.
She said that even when Mr Kane's mother phoned him, after being unable to speak to Mrs Milward, he still did not hurry home and instead went to source more drugs.
The jury was told that unemployed Mr Kane was £1,410 in debt at the time of the incident and had not claimed unemployment benefit since Aug 2011.
The prosecution said, however, that on the day his grandmother died, he was able to spend cash on drugs.
Hollywood Oscar
Ms Bain told the trial: "You might think to hit a frail 87-year-old lady with a blunt object not once, not twice but three times and to rain down other blows, causing a total of 31 injuries, and to consequently end her life, can only be considered murder."
In his closing speech, defence QC Gordon Jackson said Mr Kane deserved a Hollywood Oscar if he had been lying to the jury when he gave evidence in the witness box.
Mr Jackson, referring to Mr Kane's evidence, said: "If he gets found guilty he shouldn't just get the jail he should get a wee Oscar statuette along with it that they give out in Los Angeles.
"This would be a murderer played by Robert De Niro. That's what it would take to do exactly as he did."
Mr Jackson urged the jury to acquit Mr Kane, adding: "There is no real evidence for saying he's killed his granny.
"There are two really bad possibilities. One is killing your granny. That would be an awful thing. I'll tell you another awful thing, to be accused and convicted of killing your gran when you never did it.
"I don't know which would be worse, both would be awful."
Mr Jackson said the jury could only convict if the case was beyond reasonable doubt and said that was not the case here.
He added: "I don't know if he did it. Maybe he did, maybe he didn't. It's not my business. My business is to make sure our law is applied and we don't convict someone of murder because he might have done it and there's no-one else.
"We convict of murder because we have the clearest evidence."
'Dispassionate judges'
Mr Jackson said there was no evidence in this case and said that what evidence there was had been used by the prosecution to make it fit.
He added: "What the prosecution does is start with the presumption he is guilty and then make the pieces of evidence fit this.
"If you start, as the Crown does, with the assumption of guilt you make every piece of evidence sinister."
The QC described the Crown case as "absolutely poverty stricken".
Following the closing speeches, Judge Lord Matthews began his charge to the jury.
Lord Matthews told the jurors to set aside any emotion and to "act coldly and dispassionately as judges".