Alan McMenemy 'brutally murdered' by kidnappers in Iraq, inquest finds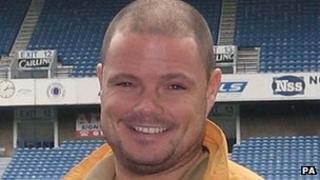 A British security guard who was taken hostage in Iraq was "brutally murdered" by his captors, an inquest has found.
Alan McMenemy was aged 34 when he was taken, along with four others, in Baghdad in 2007. His captors later confirmed he had been killed.
The only survivor of the kidnapping, Peter Moore, was released in 2009.
Mr McMenemy's body was returned to the UK in January this year. The bodies of Jason Creswell, Jason Swindlehurst and Alec MacLachlan were returned in 2009.
The four dead men were acting as bodyguards for Mr Moore when they were taken hostage.
Bodyguards killed
The five men were snatched by militants posing as police at the Iraqi finance ministry in May 2007.
The captors wanted to use them as part of a hostage exchange, but when this was refused the bodyguards were all killed.
Mr McMenemy's captors later claimed that he was killed trying to escape.
His funeral service took place in Bearsden, East Dunbartonshire, in February - a month after his body was repatriated.
Foreign Secretary William Hague told MPs on Wednesday that an inquest into Mr McMenemy's death found that he had been unlawfully killed.
Mr Hague said Wiltshire and Swindon Coroner David Ridley had recorded the verdict at an inquest on Monday.
"The coroner concluded that Mr McMenemy had been brutally murdered by his captors," Mr Hague said in a written Commons statement.
"I am sure that the House joins me in extending our deepest condolences to the family and friends of Alan McMenemy.
"They had to suffer uncertainty and pain after Alan was taken hostage and grief on news of his death."
Mr Hague called on the Iraqi government to continue its investigations into the "horrific crimes" and to bring those responsible to justice.
Inquests were held last year into the deaths of the three other guards - Alec MacLachlan, 30, from Llanelli, South Wales, Jason Swindlehurst, 38, from Skelmersdale, Lancashire, and Jason Creswell, 39, originally from Glasgow.
The inquests concluded that the men were all unlawfully killed.