Sir David Murray complains to Crown Office over tax information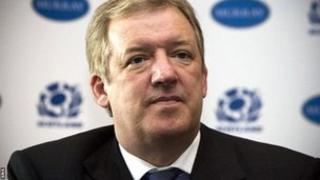 Lawyers for former Rangers chairman, Sir David Murray, have made a complaint to the Crown Office, over the publication of information about his tax affairs.
His lawyer, Prof Peter Watson, said Sir David regards such information as private and confidential.
He said its publication was "unlawful".
Last year, a BBC documentary revealed that Sir David Murray received more than £6m through an offshore trust during his time at the club.
The programme, Rangers - The Men Who Sold The Jerseys, also revealed that other senior Rangers staff and players had benefitted in the same way.
In a statement, Professor Watson of Levy & McRae said: "Sir David regards such information as private and confidential and the publication of such information as unlawful.
"He has asked that this matter is investigated and that anyone found guilty of breaching the law is the subject of prosecution."
Last week, a tax tribunal cleared Rangers of tax avoidance, over their use of the Employee Benefit Trusts (EBT) scheme.
The club, which is now in liquidation, used the scheme from 2001 to 2010 to make £47.65m in payments to players and staff in the form of tax-free loans.
HM Revenue and Customs (HMRC) had challenged the payments, arguing that they were illegal.
Rangers disputed the bill and a First Tier Tax Tribunal (FTT) ruled the payments were loans that can be repaid.