Garry Kane denies murdering his gran Kathleen Milward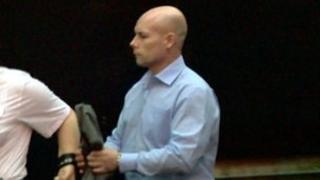 A man accused of murdering his grandmother at her South Lanarkshire home has broken down in court while denying the charge against him.
Garry Kane, 41, wept at the High Court in Dumbarton as he told the jury he found Kathleen Milward, 87, lying in the kitchen and phoned for help.
He denied stealing money from her or that they had a strained relationship.
He is on trial accused of murdering the pensioner at her home in Stonehouse on 3 January this year.
Mr Kane told the court he left his grandmother's home around 18:00 on the day she died to buy drugs from someone.
Drug deal
His QC Gordon Jackson asked where he got the money from and he said he had received money from his grandmother for Christmas.
He asked Mr Kane: "You hadn't stolen any money from her?" Mr Kane replied: "No."
The jury was told that while he was out, Mr Kane's mother Kathleen Kane phoned him to say she could not get a hold of Mrs Milward on the phone, and asked him to check on her.
Mr Kane said he went to another man's house first, over a drug deal, before he went to see his grandmother.
Mr Jackson asked his client: "Your mum said she couldn't contact your gran - were you particularly worried at that stage?" The accused said: "Not overly, it had happened before."
He added that a couple of times before, when Mrs Milward had not answered her phone, it was because she was in a neighbour's house.
Mr Kane later sobbed as he told how he found his grandmother when he returned home.
He said: "I put a small lamp on and that's when I could see my gran lying on the ground in the kitchen.
"It was just the bottom of her legs I saw at that time. I went in to the kitchen, she was lying on her back with her arms spread eagled, her legs straight, arms spread eagled."
Mr Jackson asked: "Did she look to you at that stage as if she was dead?" The ex-paratrooper replied: "Yes."
CPR claim
He told the court he phoned his mother, then phoned the emergency services and performed CPR on his grandmother.
The court was told earlier by David McFarlane, who supplied Mr Kane drugs, that the accused made a comment the day after Mrs Milward's death about hitting her.
Mr Kane denied making the comment saying: "I didn't see McFarlane from 3 January. I never saw McFarlane again until he came in to this court."
Mr Kane said he loved his grandmother and that she loved him.
Mr Jackson put to his client that somebody had assaulted Mrs Milward that day and that the allegation is that Kane is responsible.
The 41-year-old said that this was incorrect. He told the court: "I couldn't do something like that to my gran."
He told the court he did not know who was responsible but it was not him.
Advocate depute Jennifer Bain, prosecuting, put to Mr Kane that his relationship with his grandmother was "strained" but he said that it was not.
Mr Kane said that if his grandmother did not want him to live with her anymore she would have said and he would have moved back in with his mother.
'Random stranger'
He added: "I was staying at my gran's because she was desperately lonely."
He also denied that he was desperate for a drug fix that day.
Ms Bain put to him: "Is it not the case you attacked your own gran in a rage because of your desperation?" Mr Kane said: "No it is not."
Mrs Bain asked: "Did some random stranger come to your gran's house in the 10 or so minutes after you left and before that phone call and kill your gran for no apparent reason?" He said: "I can't answer that."
She continued: "Did that random stranger manage to kill your gran and take money without leaving any DNA and without being seen or heard by anyone?"
Mr Kane answered: "I can't answer that, you're asking me things I can't answer here."
Mr Kane denies murder and the trial before judge Lord Matthews continues.