George Square revamp: six firms shortlisted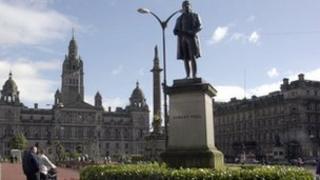 Six firms have been shortlisted to submit designs for a £15m project to redevelop Glasgow's George Square.
A total of 35 companies had expressed an interest in redesigning the space.
Four British, one US and one French firm - all with international experience of delivering civic spaces - will now submit plans by the New Year.
The designs will go on display, followed by a consultation. Work should begin next year with phase one complete before the 2014 Commonwealth Games.
The four British firms on the shortlist are Burns and Nice, Gustafson Porter, JM Architects and John McAslan and Partners.
They are joined by American firm James Corner Field Operations and Agence Ter from France.
Lighthouse display
The six designs submitted to Glasgow City Council will be put on public display at the Lighthouse in early January.
The proposals will see 13 monuments in George Square - excluding the cenotaph - temporarily relocated to other parts of the city while redevelopment work is under way. Some may not return.
Glasgow City Council plans to work with Historic Scotland to ensure the statues are conserved.
The square's distinctive red tarmac could also be ripped up and resurfaced, with flower beds and lighting removed.
Glasgow City Council leader Gordon Matheson said the calibre of the companies vying for the work underlined the "iconic" status of George Square.
"Each bidder has a wealth of international experience and all six have delivered a number of eye-catching civic spaces acclaimed by their peers and public alike," he said.
"The city attracts thousands of tourists and conference delegates every year, who generate millions of pounds for Glasgow's economy, and we need to invest in our city if we want that to continue.
"This means it is absolutely essential we choose the very best designer-led team to create a new George Square fit for the 21st Century."
Funding of up to £5m will be made available to complete phase one of the revamp before the 2014 Commonwealth Games.
The additional £10m will come from a wider retail-led project to regenerate the area around the square, known as the Buchanan Quarter.