Glasgow homecoming parade for 1st Royal Tank Regiment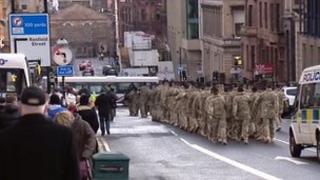 About 100 soldiers from the 1st Royal Tank Regiment have taken part in a Homecoming Parade in Glasgow to mark their return from Afghanistan.
The soldiers from D Squadron served during 2012 in Helmand province.
The parade moved from Holland Street along West Regent Street, Pitt Street, West George Street and finished at George Square.
The regiment is based at RAF Honington in Suffolk and recruits from Scotland and the north west of England.
Commanding Officer Lt Col Andrew Britton said: "I am extremely proud of what the regiment achieved in Afghanistan.
'Deeply appreciated'
"The soldiers make many sacrifices to fulfill their role and recognition of that by those at home is deeply appreciated. It means a great deal to the soldiers and their families."
Glasgow's Lord Provost Sadie Docherty, in her capacity as Lord Lieutenant, will take the salute at the Homecoming Parade in George Square.
She said: "One of the honours I have as Lord Lieutenant is taking the salute at Homecoming Parades.
"It is always a privilege to welcome our brave men and women serving in conflicts across the globe.
"I am delighted that all of D Squadron have made it home safe and sound in time for Christmas with friends and family."