Natasha Paton FAI: Coach driver braked 'too late' says witness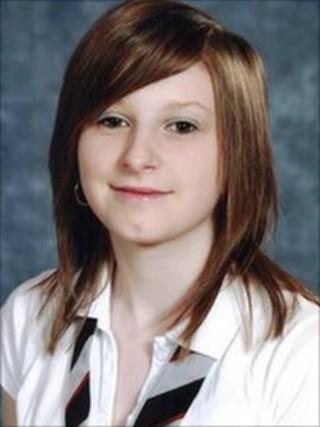 A man who was on a coach which crashed during a snow storm, killing a 17-year-old schoolgirl, has told a court the driver braked "too late and too hard".
Scott Mitchell, 30, who helped teachers from Lanark Grammar School, was giving evidence at a fatal accident inquiry (FAI) into the death of Natasha Paton.
He said there was no suggestion bad weather should halt the school trip.
Natasha died after a coach carrying 39 pupils and five staff hit a bridge and went into a river on 31 March 2010.
The 17-year-old, from Cleghorn, South Lanarkshire, was on a school trip to Alton Towers theme park in Staffordshire when the accident happened.
The driver lost control of the vehicle on a bend during treacherous conditions on the A73 at Wiston, near Biggar.
Teacher uneasy
The bus collided with a bridge and tumbled down an embankment where the front end came to be submerged in the river.
Prior to Mr Mitchell's evidence, the FAI at Lanark Sheriff Court heard from Lanark Grammar School chemistry teacher Ross Allan.
He told the inquiry that he had felt uneasy just before the coach crashed.
Mr Allan said he was aware the coach was approaching a sharp bend in the road and appeared to travelling fairly quickly.
He said it did not appear to respond even as the driver turned the steering wheel.
The FAI continues.