Kathleen Milward's 'blood found' on Garry Kane's clothes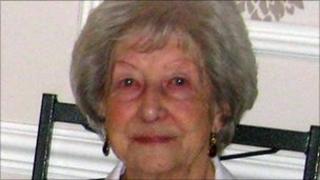 The trial of a man accused of murdering his 87-year-old grandmother has been told that traces of her blood were found on his jeans and boots.
Forensic Scientist Nighean Stevenson also told the High Court in Dumbarton that Garry Kane's DNA was found under Kathleen Milward's fingernails.
Mr Kane, 41, denies killing his grandmother at her home in Stonehouse, South Lanarkshire, on 3 January.
The murder trial, before judge Lord Matthews, continues.
The court was told that clothes worn by Mr Kane, on the day his grandmother died, were tested.
Resuscitation efforts
Mrs Milward's blood was found on denims and the toes of his Hi-Tech boots.
Prosecutor Jennifer Bain asked, if Mr Kane had been the attacker, would blood be expected on his clothing.
Ms Stevenson replied: "That could occur."
However, the witness added blood could have got on there after he found Mrs Milward's body and carried out resuscitation.
Ms Bain asked if the clothes of Mr Kane's aunt Maureen Kennedy - who also carried out CPR on the pensioner - had any blood on them. Ms Stevenson replied: "No."
The court also heard how the scientist took fingernail clippings from Mrs Milward.
Asked what her conclusions were, Ms Stevenson replied: "The scientific evidence would support an assertion that DNA from Garry Kane had been deposited under the fingernails."
Advocate Depute Ms Bain went on: "If Kathleen Milward had been fighting off an attack from Garry Kane could that be an explanation how his DNA came to be under her fingernails?"
Ms Stevenson replied: "That is a possibility."
Ms Bain also asked if there had been direct contact between the the pensioner and Mr Kane, would that explain the presence of his DNA. Ms Stevenson said: "Yes."
DNA claims
Under cross-examination by defence QC Gordon Jackson, Ms Stevenson admitted that it was not possible to date DNA and that the DNA found could have been there for a week or more before Mrs Milward's death.
She also agreed that you would expect to find Kane's DNA in the house since he lived there with his grandmother.
Mr Jackson said that DNA could have been transferred by hugging or hair ruffling and Ms Stevenson said this was possible, but added: "In my opinion it is less likely."
The QC then said: "Could the fact he has her blood on him be entirely consistent with something that could happen while he is performing artificial respiration," and Ms Stevenson replied: "It is a possibility."
Ms Bane later brought the Crown case to an end and withdrew theft and heroin possession charges against Mr Kane.
She also dropped a charge alleging that the accused repeatedly asked his grandmother for money and shouted and swore at her between 24 December 2011 and 3 January.
Judge Lord Matthews formally acquitted Mr Kane of these charges and the accused said: "Thank you."
He now only faces a charge of murdering his grandmother, which Mr Kane denies.