Assault was 'key factor' in death of Kathleen Milward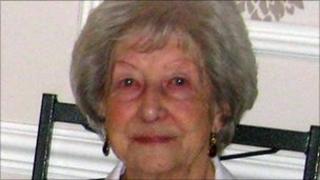 Head and neck injuries, most likely caused by an assault, were a key factor in the death of 87-year-old Kathleen Milward, according to a pathologist.
Garry Kane, 41, denies killing his grandmother at her home in Stonehouse, Lanarkshire, on 3 January.
Dr Julia Bell told the former paratrooper's trial at the High Court in Dumbarton: "Assault may not alone have been the cause for the death.
"But substantial blood loss can cause death, especially in elderly people."
A post-mortem examination found 26 external injuries, as well as internal bruising and a broken cartilage in the elderly woman's neck.
Dr Julia Bell, a consultant forensic pathologist at Glasgow University, told the court there were 15 injuries on Mrs Milward's head and neck, caused by "blunt force trauma".
She described the most serious of the injuries as three lacerations to her head, all of which were down to the skull.
'Significant force'
Of the largest cut, Dr Bell said: "This goes right through the head, exposing the skull underneath.
"An injury like this is usually carried out by a blunt instrument."
Dr Bell also described smaller cuts and "areas where the skin has been scraped off the surface" around Mrs Milward's left cheek, which could have been caused by a "hand place over the nose and mouth".
"One of the cartilages in the throat had been broken," she added.
"That would be in keeping with a blow to the left side of the neck, or compression of the neck in that region by a hand, or an arm or knee.
"It's a type of injury that would require significant force to inflict."
Dr Bell thought that the cause of death was most likely to be a combination of factors.
"Blunt force trauma and hemorrhage from the scalp has undoubtedly been a key factor in her death," she said.
"Her pre-existing cardiac disease could also be a significant factor."
'Kitchen in darkness'
The court heard that, in his statement to police on 7 January, Mr Kane told officers he had knocked on his grandmother's door on the day she died before realising it was not locked.
He said he switched on the lights and found her in "a puddle of blood".
Mr Kane, who served with the Parachute Regiment until 10 years ago, said he had gone to the house of his friend Ryan Black in the afternoon, leaving his grandmother watching television.
In a statement given to Det Con John Quinn, Mr Kane told of arriving home to find the conservatory and kitchen in darkness.
"I think when I saw her, I knew she was dead," the accused said. "I was emotional because it was my gran, who I was close to.
"I didn't know what to do. It's 10 years since I left the Army. I got first aid training there."
Mr Kane said his grandmother had a cut to her right forearm but added that he could not remember seeing any bruises.
Heroin use
The jury heard that Mr Kane had initially not told police that he had taken heroin the day she died.
He told police he had gone out that day to visit his friend who lived a 15-minute walk away.
Mr Kane claimed that they had just chatted about various people they knew and about what they had done at Christmas.
However, in a second statement, he admitted: "I was going for two tenner bags. I normally smoke it or snort it."
Mr Kane also told a police officer that the back door of his grandmother's house was open because he had forgotten to lock it.
However, he later told another policeman that, as he left, he had shouted to his grandmother to lock the door behind him.
The trial before judge Lord Matthews continues.